The Ultimate Paris Survival Guide
Ready to plan your dream trip—or your move—to Paris, but don't know where to start? No matter who you are, I've got your big dreams for Paris covered.
Written by a professional concierge in Paris, The Ultimate Paris Survival Guide will help you plan your visit to the City of Light in just one week, so that you can hit the ground running, save yourself some stress, and get the best out of your time in one of the world's most romantic and celebrated cities!
Ditch the tourist spots and hours of research.
Pick up The Ultimate Paris Survival Guide instead!
Look inside!
Buy now at summer price!
Tell me if this sounds like you…
You've spent years dreaming about booking a ticket to Paris, but have never pulled the trigger.
You're afraid you can't afford Paris, or don't know enough French to navigate the city.
You don't know the best time to come, how long you should stay, or what you should do…
…and you're worried you'll miss out on the best Paris has to offer, simply because you don't know how to think like a savvy local.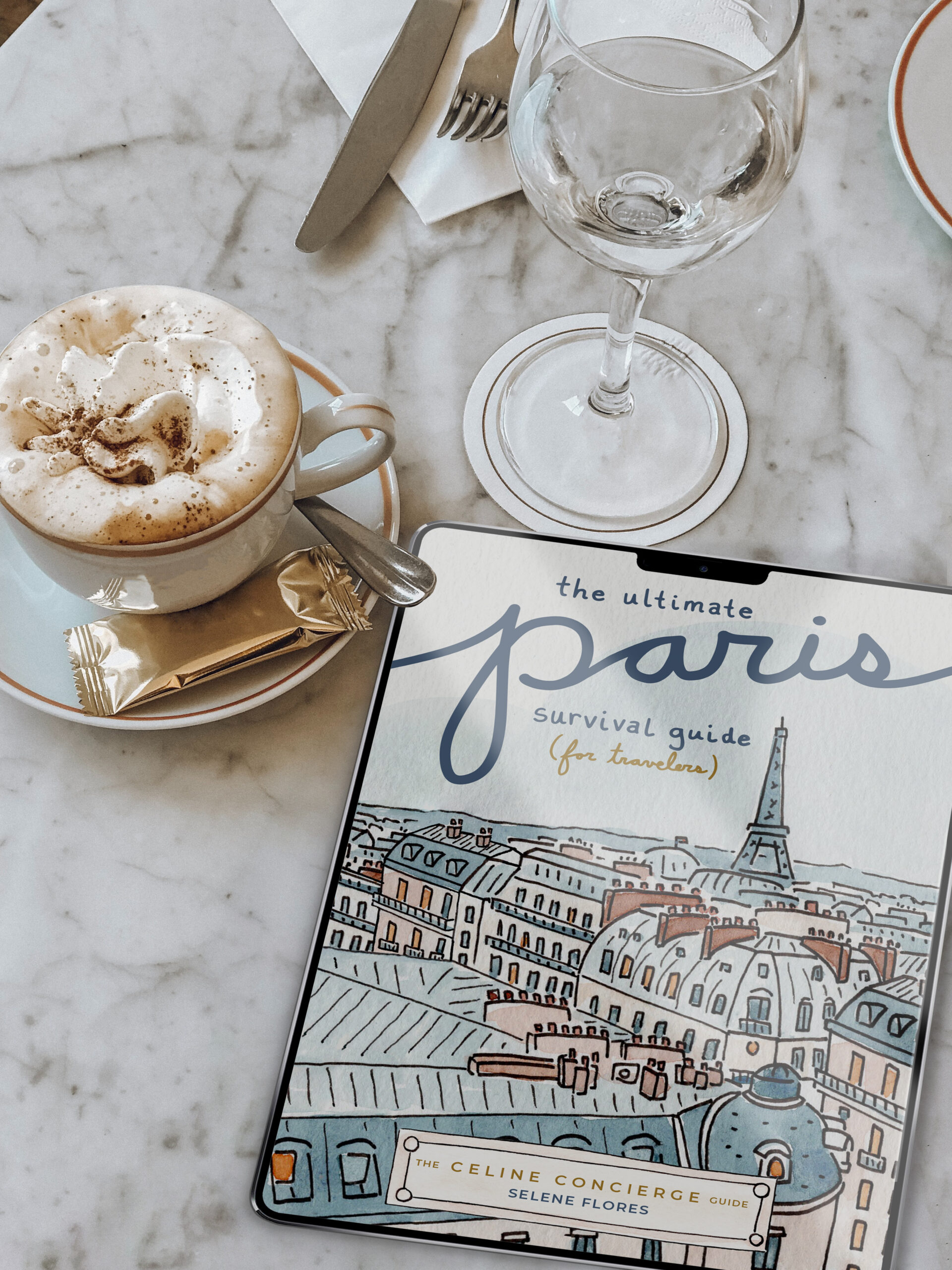 The truth is that Paris can have quite a learning curve—especially for those unfamiliar with French culture!
But what if there was a way to feel confident that the Paris of your dreams is not only possible but absolutely achievable? A way to skip past the language barriers, bureaucracy, and rampant tourist scams?
A way you might even pass as a savvy Parisian yourself?
Enter The Ultimate Paris Survival Guide. When I moved to Paris with no job, no French skills, and no place to live, I would have given anything for a guide just like this one.
So… I wrote it.
I've been in Paris for nearly a decade now, and trust me—I've made all the mistakes. From…
Ordering a "coffee" and automatically getting what I know as an espresso!
Getting scammed for bottled water when I just wanted a free "carafe d'eau" or a carafe of water…
Throwing away my metro ticket before arriving at my destination and getting a fine, even though I had bought a ticket!
Falling for tourist scams and ending up with crappy 'made in china' souvenirs…
Paying stupid amounts for a not so great dinner in a tourist restaurant (photos on the menu is a bad sign!).
Not knowing that a bottle of 5€ wine can actually be pretty good 🙂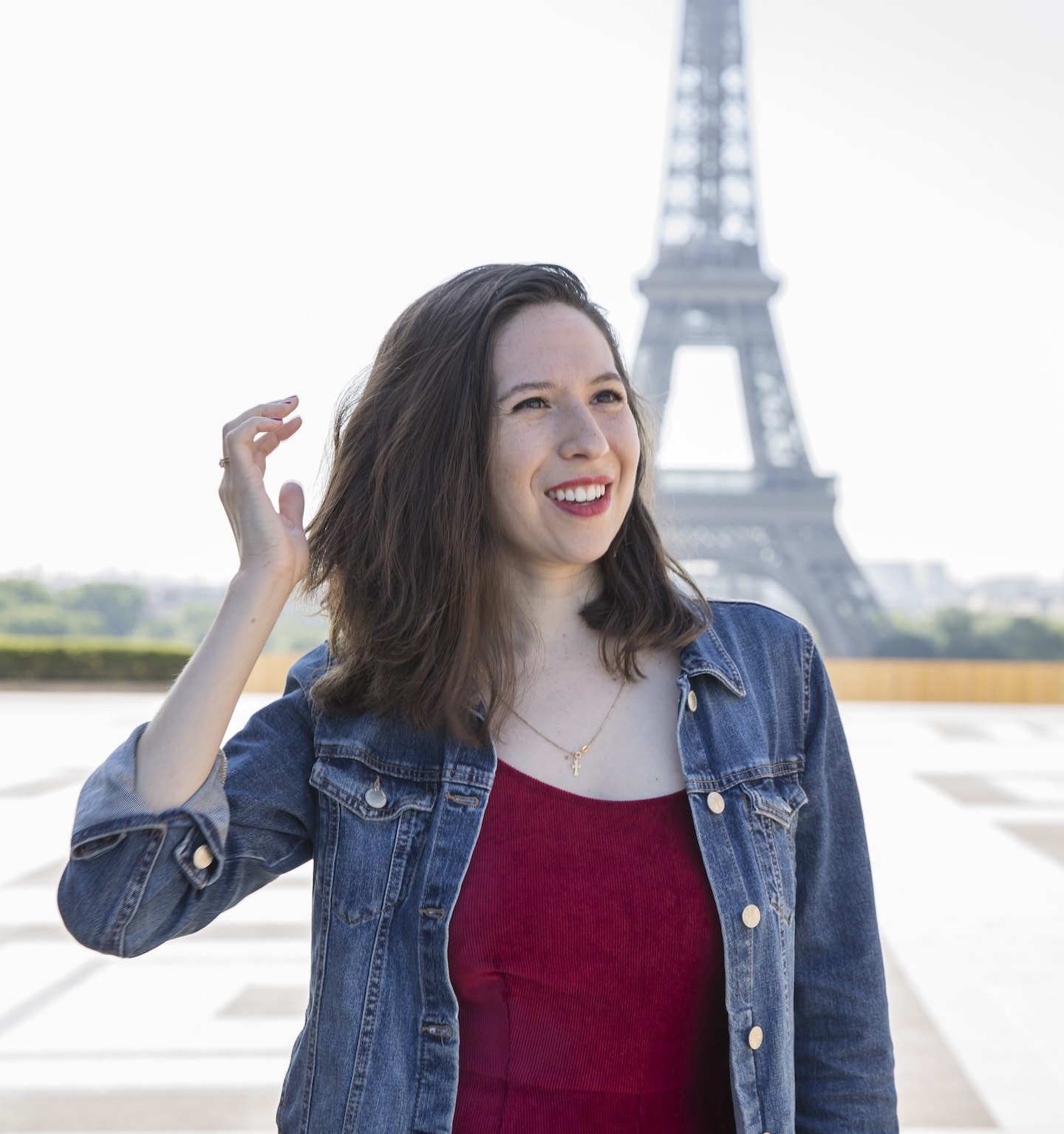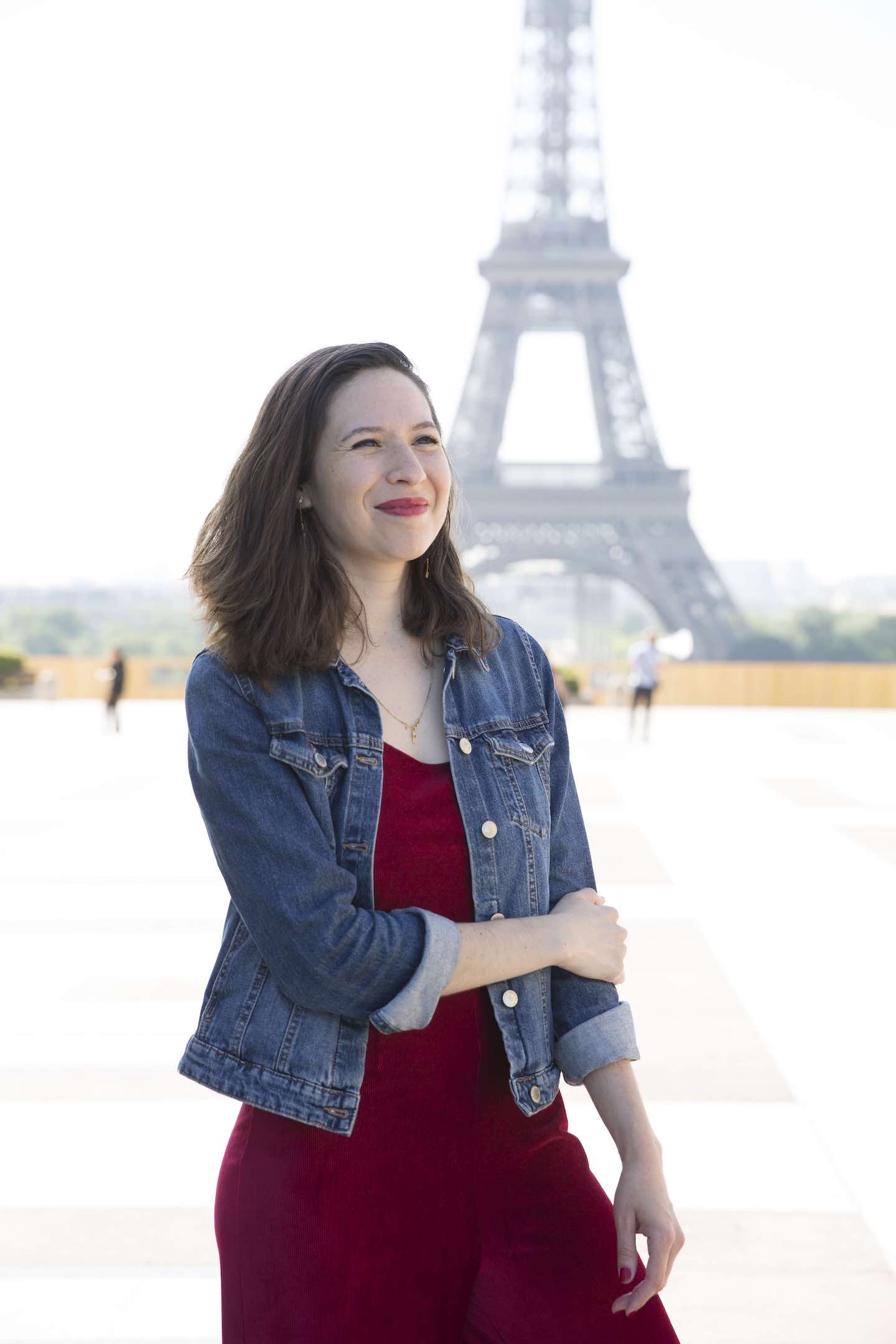 I've done it all in Paris.
Navigating the City of Light hasn't always been easy, but I had a dream about experiencing Paris my way, and I made it happen. Now, I'm a professional concierge in the City of Light, and an expert in all things Parisian, and I'm sharing all my hardwon secrets with you.
Paris is an attainable dream, you just need a little savoir-faire!
I've served countless international clients, from brand new tourists wanting the rarest taste of the city, to returning visitors looking to discover a side of Paris they haven't seen. I've even helped people relocate to Paris the way that I did!
This guide has been nearly a decade in the making. Now you can have the savvy of a Parsian and the expertise of a concierge in your pocket.
The Ultimate Paris Survival Guide will help you feel 100% confident in your plans for Paris, no matter who you are or what you wish to achieve in the City of Light.
Ready to make your dreams a reality?
You're here, so that must be oui!
Start planning your perfect trip to Paris today!
Inside The Ultimate Paris Survival Guide, I share:
Countless Travel Resources
The best places to eat, drink, & visit
Secret places to explore that only the locals know about
Insights from people who live in Paris
Day-trip ideas with practical tips
A travel budget template
A museum guide
How to find accommodation (both short and long term)
A collection of curated stories and interviews from travelers & expats
Stunning original watercolor illustrations
And so much more…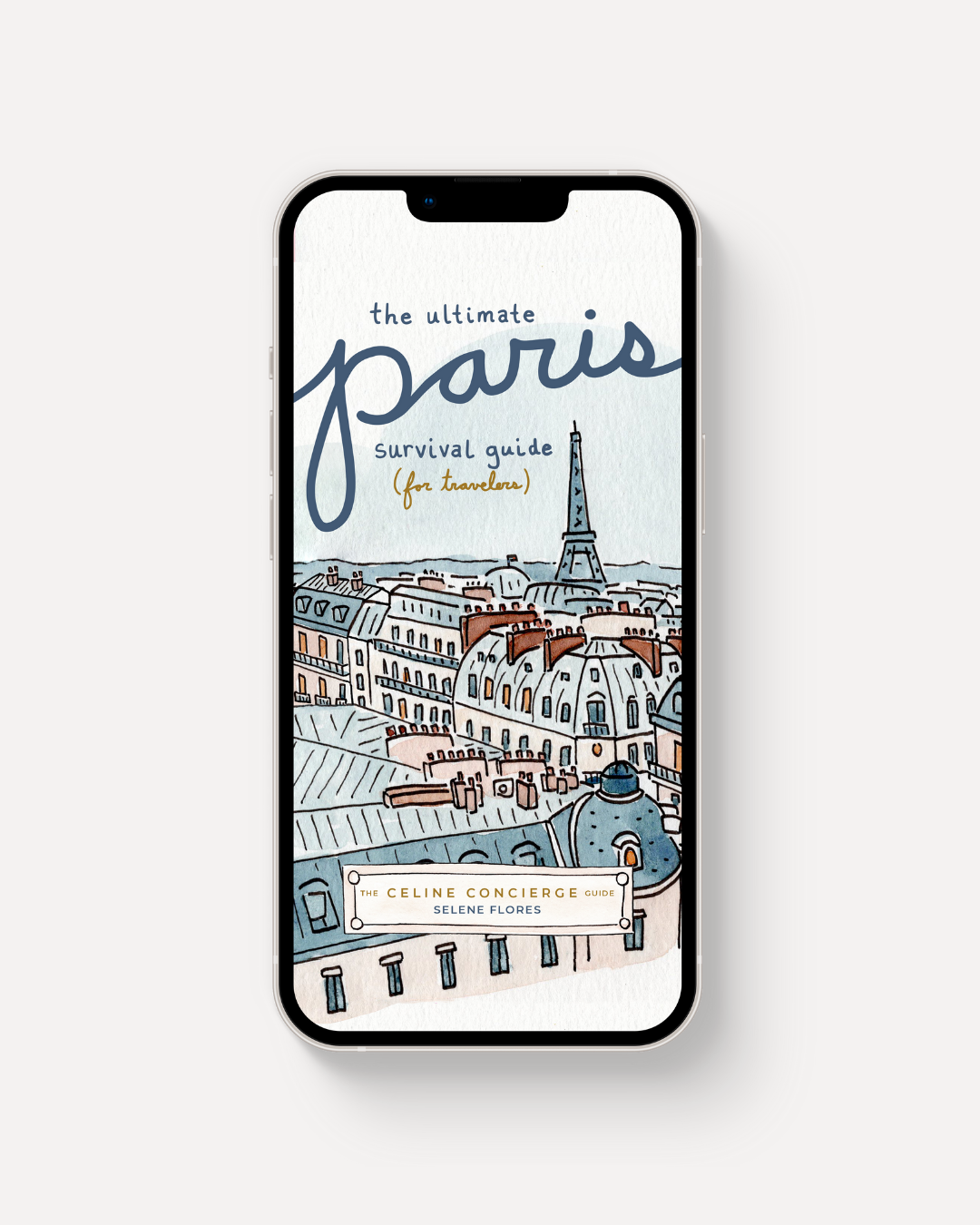 Imagine yourself sitting on the terrace of a Parisian café, sipping a
café crème
as you watch chic passerbys…
Riding bikes along the banks of the Grand Canal at Versailles…


Picnicking in the gardens of historic châteaux, with a fresh baguette and pain au chocolat…
Reading a good book along the Seine, the sunshine on your back…
Spinning under the sparkling lights of the Eiffel Tower… 
That's exactly what The Ultimate Paris Survival Guide will help you experience.
This guide is the difference between a trip full of FOMO and second guessing, and a trip planned by an expert. With
The Ultimate Paris Survival Guide
, you'll have all the knowledge you need to organize an itinerary that suits
your
traveling style,
your
budget, and
your
dreams for Paris.
Now, you have all the expertise of a professional concierge in your pocket,
with all the tips, tricks, and secrets you need to make your time in Paris even better than you imagined.
Turn your Paris possibilities into realities.
This brilliant guide will come in handy for your travels all year 'round!
So…why The Ultimate Paris Survival Guide?
Hey, I'm Selene "Céline" Flores, American-turned-Parisian and founder of Céline Concierge. In 2013, I took a leap of faith and moved over 5,000 miles across the ocean with very little knowledge of the French language and a massive vision for my life that was too powerful to resist! Now, I spend my time helping fellow Francophiles and dreamers like me make the most of their time here in the City of Light.
After nearly a decade living as an expat in Paris, I'm well versed in leaps of faith and All Things Parisian. I've spent years learning to navigate the city as both a foreigner and as a local, and I can say without a doubt that Paris is the most magical city in the world. What once felt like an absurd dream—moving to Paris on a whim with only my heart and instinct to guide me—was the best choice I've ever made.
Between my personal experiences in this city and my professional ones as a concierge, I know how to make Paris easy, accessible, and fun for anyone who dreams of visiting, studying, or moving here.
I began to wonder… what if I'd had all of these tips and tricks when I first came here? I'd have saved myself so many faux-pas, not to mention time and stress!
I may have had to learn Paris the hard way, but it was worth it because now I'm passionate about helping others discover the Paris of their dreams—without all the trial and error.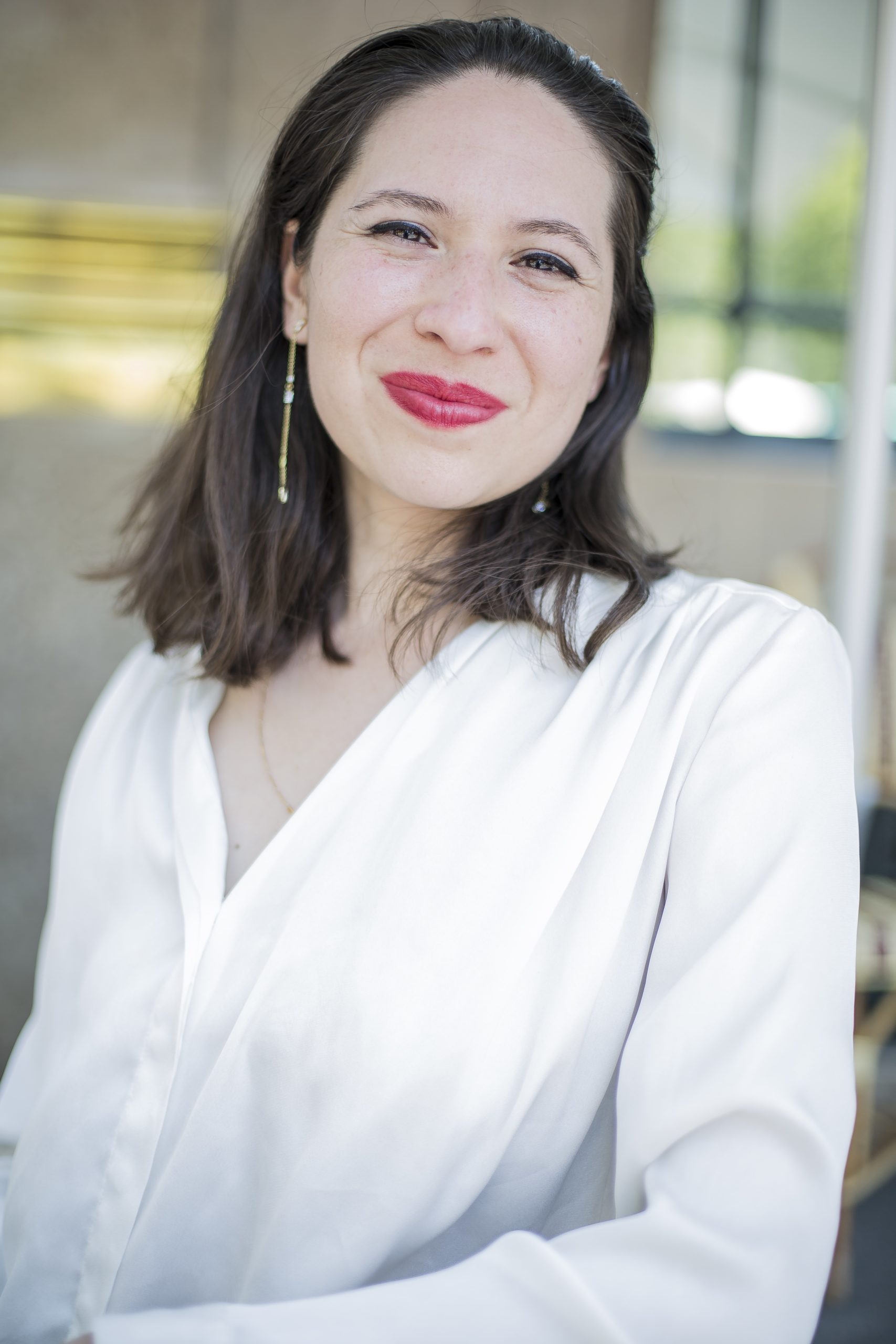 Here's what you'll discover inside The Ultimate Paris Survival Guide:
Over 90 chapters—and nearly 500 pages! You'll get all of my best Paris secrets, travel hacks, recommendations, and more.
Clickable links. Simply bookmark links via your browser or e-reader to easily access the online resources and sites in this interactive guide.
Budgeting Tools. Plan your trip to Paris from A to Z using the travel resources inside this guide, including a pre-filled budget template and travel planning timeline.
The Best Deals. Find the best airline tickets, train tickets, and more with my plethora of favorite travel resources.
Lifetime access. Once you purchase the guide, it's yours for life! Avoid endless hours of research, and have the power and know-how to plan your trip at your fingertips.
Multiple formats. Whether you prefer to read on your phone, tablet, e-reader, or computer, I've got you covered. The Ultimate Paris Survival Guide is downloadable as both an ePub and a PDF.
The priceless expertise of a Parisian Concierge. As a professional concierge here in the City of Light, I know Paris inside and out. Not only am I sharing my personal experiences as both a traveler and a local, I'm also giving you access to my BEST professional advice for planning your stay (or move to!) Paris.
Consider: the average cost of a 5-day itinerary to Paris with a private concierge starts at 1200 €…
…but today you can purchase The Ultimate Paris Survival Guide for only 29 € !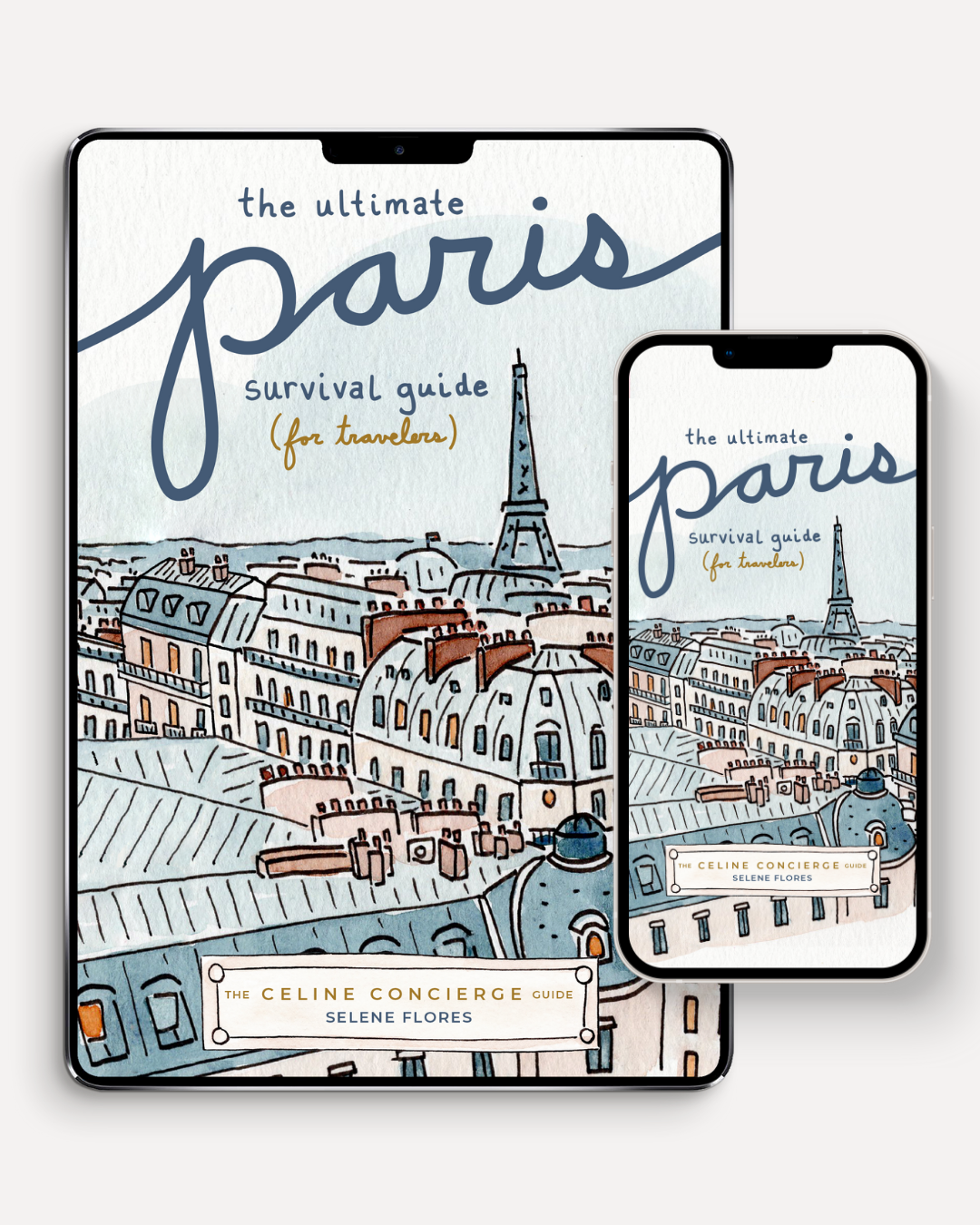 "What makes The Ultimate Paris Survival Guide so ultimate?"
This guide offers more than just tips and tricks for the savvy adventurer; from insider knowledge of navigating Paris, to carefully curated stories from travelers and expats alike, everything in The Ultimate Paris Survival Guide is handpicked for those who want to get the most out of their time in Paris—no matter how long you're here or how many times you've been before. This guide is jam-packed with information and is as versatile as the reasons people fall in love with Paris.
"What if I'm not coming to Paris anytime soon?"
If you dream of Paris this resource will make it feel even more possible, no matter your timeline! If you plan to visit Paris in 3 months, next year, or don't have your trip booked yet, the Ultimate Paris Survival Guide will help you get started. The pointers in this book are timeless. Plus, if there are updates to our guide, you have automatic access— no matter when you come.
"What if I've already been to Paris? Is this still for me?"
Because of the comprehensive nature of The Ultimate Paris Survival Guide, it's perfect for seasoned travelers who want to discover new things to do in Paris. Even the locals will find unexpected treats in this book! There are hundreds of recommendations for what to eat, drink, and see in Paris… and also a list of secret underground experiences that most locals don't even know about.
"What if I don't have a budget to come to Paris?"
The Ultimate Paris Survival Guide was made to be as versatile as your dreams—or your budget! Our travel budget template resource will help you outline the costs and break down the expenses associated with traveling abroad. You'll likely come to find that traveling to Paris on a budget is far more accessible than you think. It's true that Paris can be expensive, but it doesn't have to be…you just have to know where to go. That's exactly what this guide is for!
"How do I know this is worth investing in?"
If you've found yourself on this page, you're likely already invested in the idea of Paris. This is your sign! I'm here to tell you that your dreams are worth listening to and The Ultimate Paris Survival Guide was written specifically to help people like you go from fantasizing to taking action! If you choose to purchase this guide, you aren't just investing in a guide. You're investing in yourself and taking the next step to achieving your dreams—all for the price of a dinner out. Why not cook at home this weekend and plan your trip to Paris instead? 
"Can I get a refund?"
Due to the digital nature of this product and the immense value it provides, there are no refunds after purchase. But you won't need one, because I really think you'll love it. I mean, look at all this praise for The Ultimate Paris Survival Guide…
This guide is for YOU if you're…
A first time traveler to Paris—or Europe!

You'll get a step by step guide on how to make a strategic plan for your trip and access to all our best travel resources. 

A blogger or influencer looking for the under the radar spots.

Foodie or photographer, this guide is for you. Go beyond the clichés and tired recommendations and discover new corners of Paris to share with your audience.

A Remote Worker/Digital Nomad.

There's never been a better time to work while traveling! If you want to work from cafés by day and indulge your wanderlust when you're off the clock, you'll have all the information you need to make Paris your new home.

An expat looking to relocate.

Been there, done this! Whether you're curious about settling in Paris, or have your heart set on building a life here… I've got you covered! From studies to sabbaticals to a brand new job, there are a million reasons why you might be in Paris long-term.

The Ultimate Paris Survival Guide

will help you know how to do it—

without

all the headaches.

Looking to plan a special trip for any occasion.

A graduation, engagement, honeymoon, or anniversary…there are so many things to celebrate in life and Paris is the perfect place to do it! This guide will help you plan a trip with ease, no matter the event or who you're experiencing it with.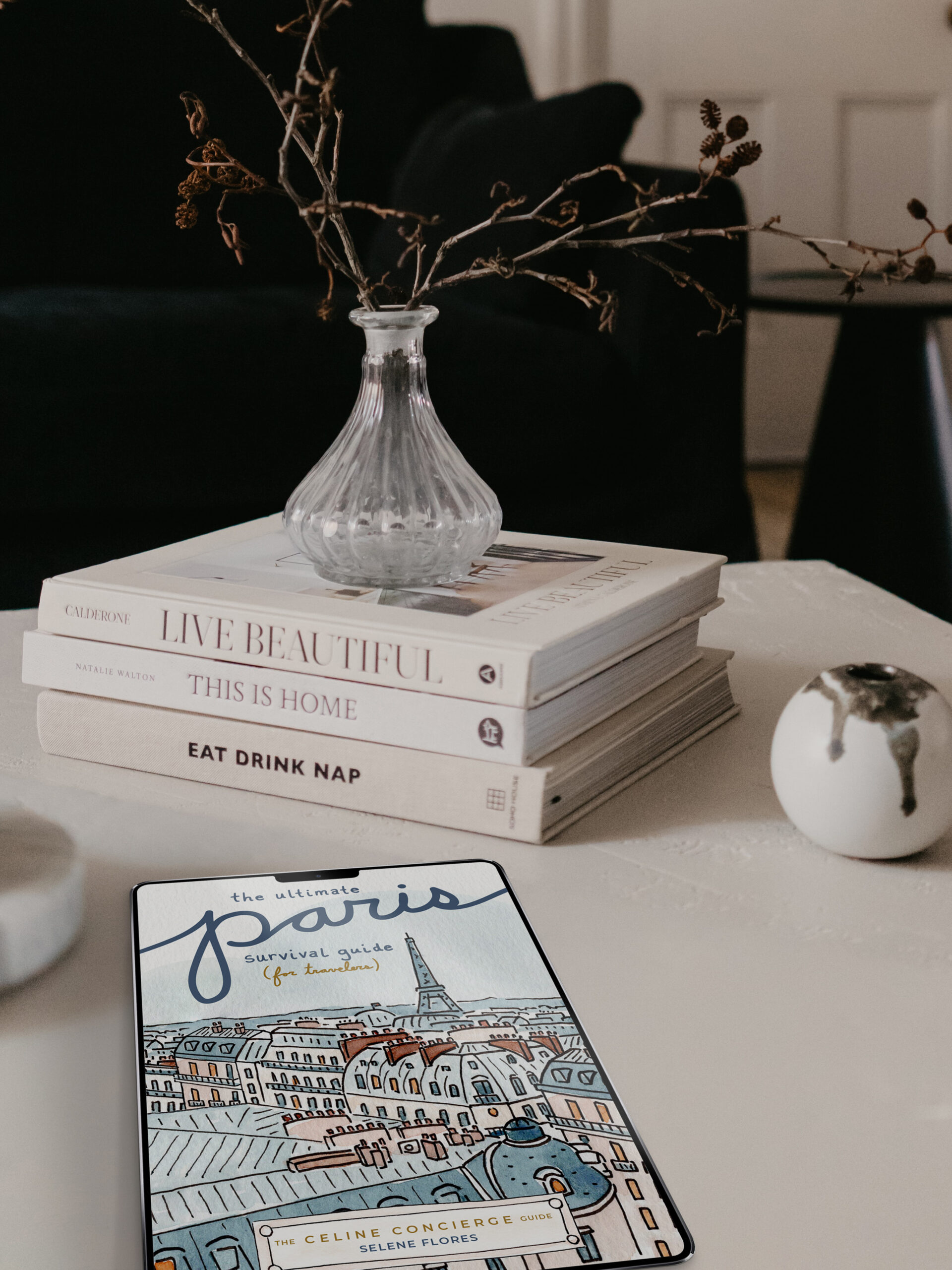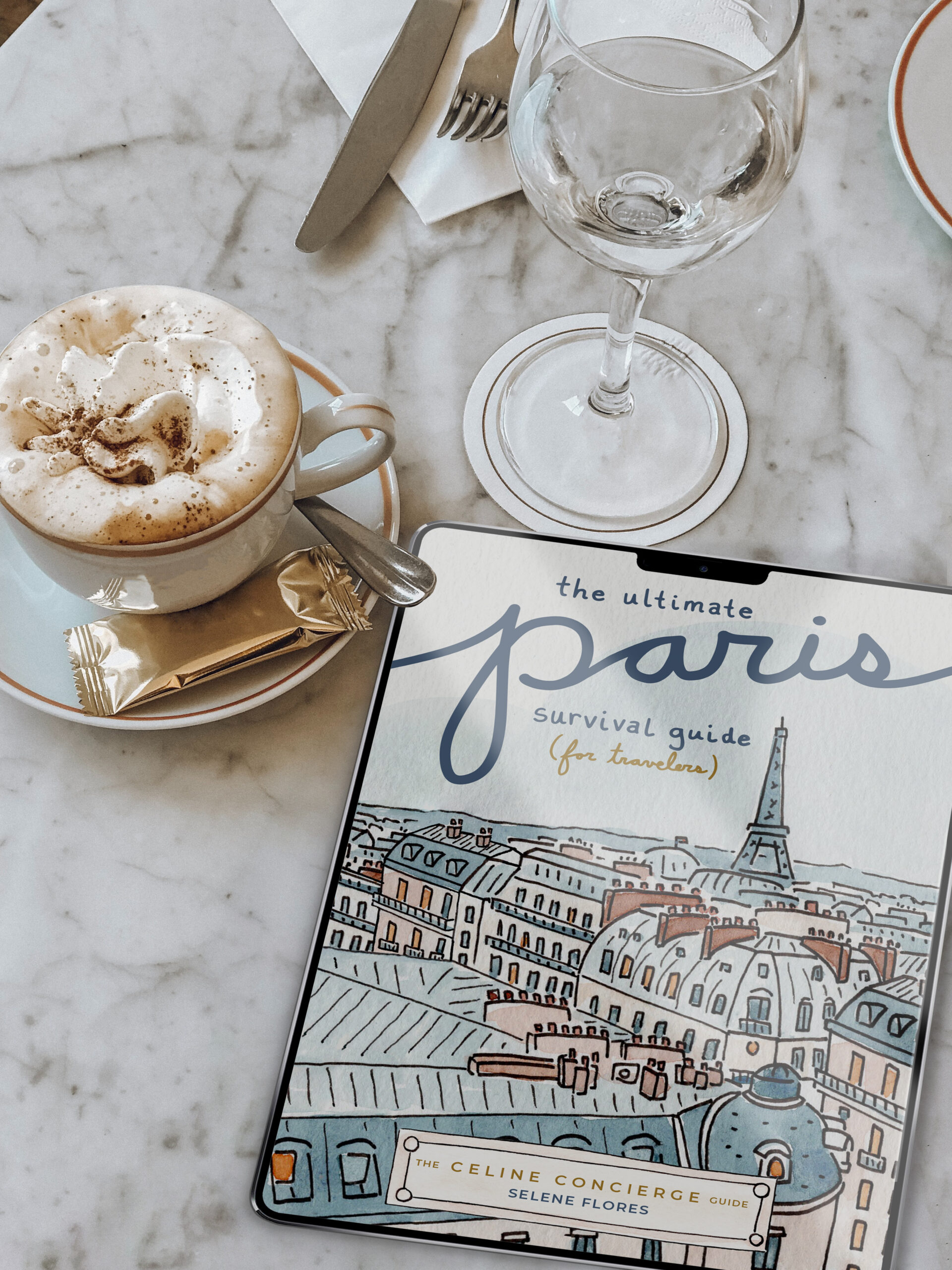 How does this all work?
TO PURCHASE: Buy The Ultimate Paris Survival Guide via our online shop. We accept credit and debit cards.
GETTING YOUR BOOK: You will receive an email confirmation that includes the download link for The Ultimate Paris Survival Guide, which you can immediately download in either ePub (for Kindle) or PDF formats.
Your receipt will hit your inbox approximately 24-48 hours after you purchase The Ultimate Paris Survival Guide. 
AFTER PURCHASE: The Ultimate Paris Survival Guide is yours for life! It's time to start planning your trip to Paris and make that dream of yours come true!
If you have any issues or technical problems, you can contact us at: contact@celineconcierge.com. 
Why
only
dream of Paris when you could
be
in Paris?
Dreams come true.
So why not yours, right now?
You don't need to be overwhelmed. You don't have to spend tons of money. You don't have to wait for the "perfect time."
You don't have to be afraid of chasing your dreams.
You just need The Ultimate Paris Survival Guide.
A few months from now, you can be sipping a café au lait and gazing out at the sparkling Eiffel Tower, wandering the cobblestone streets of Montmartre, and drinking wine along the Seine.
If you're over the "maybe someday" and the "if onlys" that are stopping you from visiting Paris, now is your moment.
You deserve this.
Paris is waiting.
⭐️⭐️⭐️⭐️⭐️
"Paris is a challenging city – but this thorough and well-organized guide is the ideal planning tool to help you tackle it. There are more good tips here than most Parisians can offer!"
⭐️⭐️⭐️⭐️⭐️
"Reading Selene's guide brought me straight back to when I first fell in love with this enchanting city 8 years ago! As a fellow adopted Parisian, I can truly say that she captured this city perfectly, packaged it up beautifully with a big bow, and then delivered it directly to your inbox. A gift I wish I had when I first arrived! Selene's guidance is invaluable, highly detailed, and spot-on for both travelers and new Parisians alike!"
⭐️⭐️⭐️⭐️⭐️
"This book is at the image of the Celine Concierge company founder: warm, passionate, knowledgeable and reliable."
⭐️⭐️⭐️⭐️⭐️
"As an expat for 13 years, I can confidently say I have never seen such a comprehensive, useful and enjoyable Paris guide. Fantastique!"
⭐️⭐️⭐️⭐️⭐️
"Wow! Where to start? I am just loving every bit of this book, it is insanely rich, practical and exhaustive, at the same time so pretty and fun to read through. But on top of all that, what strikes me the most is at the very beginning: Where My Paris Story Begins: Céline à Paris. I was almost in tears while reading this part, because I saw myself, it was also MY story. I guess it must be the story of so many people who came to Paris without knowing one word of French but stayed forever. Paris changed our lives and set us free, it will also change yours and help you to find your true self. Next time when you are about to come to Paris, make sure you have this book with you, that will be a magical trip…"
⭐️⭐️⭐️⭐️⭐️
"This guide completely eliminates the need to invest in endless hours of research when planning your first trip to Paris. The best tips and secrets are revealed, and you don't need to look elsewhere!"
⭐️⭐️⭐️⭐️⭐️
"I pride myself on knowing Paris like the back of my hand..but Selene is the one person I'll call for the scoop I know I'm missing. Though I've done my research and spent a good period of time running around the City of Light, I still wanted to take notes on all the places Selene recommends that I didn't know about…and there were a lot! Whether you're just looking for a taste of the real Paris or want a curated experience (long or short term), she'll make it happen."
⭐️⭐️⭐️⭐️⭐️
"This is the most comprehensive, thorough presentation of Paris, written with passion and love by Selene. I wish I had this Parisian handbook and roadmap when I arrived in August 2021… but with all of the things I haven't seen and done yet that are featured in this survival guide, I will need to keep coming back again and again. A must-have for any global citizen like me! Congratulations Selene for a masterpiece and masterclass of all things Paris!"
⭐️⭐️⭐️⭐️⭐️
"The mix of storytelling, stunning illustrations, helpful resources, and time-saving tips and tricks to get the most out of your experience in the City of Light makes this a must-read for travelers coming to Paris. While comprehensive, the ebook is cozy and comforting. With Selene by your side, you can almost feel the magic that's in store for you when you finally do arrive."
The Ultimate Paris Survival Guide
Now is the time to make your dreams come true, and The Ultimate Paris Survival Guide will help make them a reality!
29.00 € Price Including Tax
☆
This Paris ebook is an interactive guide full of over 90 chapters—and nearly 500 pages! You'll get all of my best Paris secrets, travel hacks, recommendations, and more. The Ultimate Paris Survival Guide is downloadable as both an ePub and a PDF format.
Looking for the paperback? Get your printed copy of The Ultimate Paris Survival Guide here.