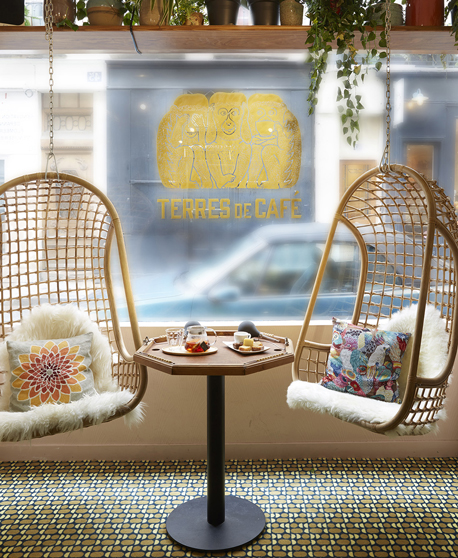 Why Terres de Café is Our Favorite Coffee Shop in Paris
Reading Time:
4
minutes
DISCLAIMER:
This post may contain affiliate links which will reward me monetarily or otherwise when you use them to make qualifying purchases. For more information, please read my
privacy policy
and
disclaimer
.
Last Updated on July 22, 2022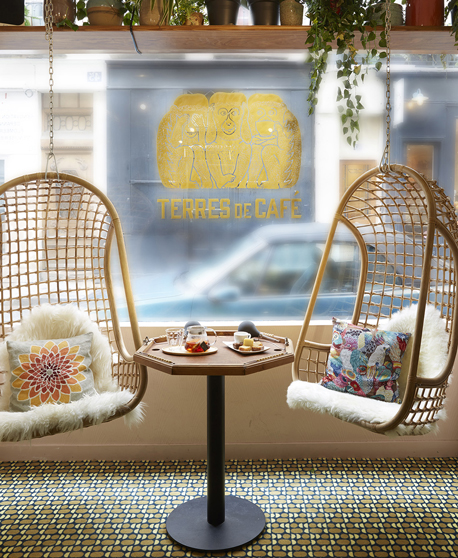 Photo Courtesy of Terres de Café
Interview with Pierre de Chantérac (French Barista Champion)
Recently, we were able to stop by one of

Terres de Café

's many locations in Paris and chat with the head barista,

Pierre de Chantérac

.
Terres de Café

offers a unique spin on the world of coffee—from quality to sustainability, Pierre shares it all! Read on to learn why Terres de Café is one of Paris' most unique coffee shops to visit, and why it's also one of our very favorites.
Check out the French Friday video of Pierre's interview here on Instagram.
Céline:

Hi Pierre, please tell us about yourself and what made you want to become a barista.
Pierre: Thank you and welcome! My name is Pierre. I'm the head barista here at Terres de Café and also a trainer, brand ambassador, and head of the Competition Department. I became a barista, I think because I'm passionate about coffee and also about people. I love that a cup of coffee can express an emotional journey, and this is what really matters to me in the customer service experience as a barista.
Céline:

You are the French Barista Champion– you won in 2019 and again in 2021, so congratulations! What do you think contributed to your success?
Pierre:

First, curiosity for people and for the sensory aspect. I also believe that my path in competition has been joyful. I really enjoyed every step and I believe this is essential to rise and also of course having a certain amount of willingness and dedication, because yes it's a lot of work.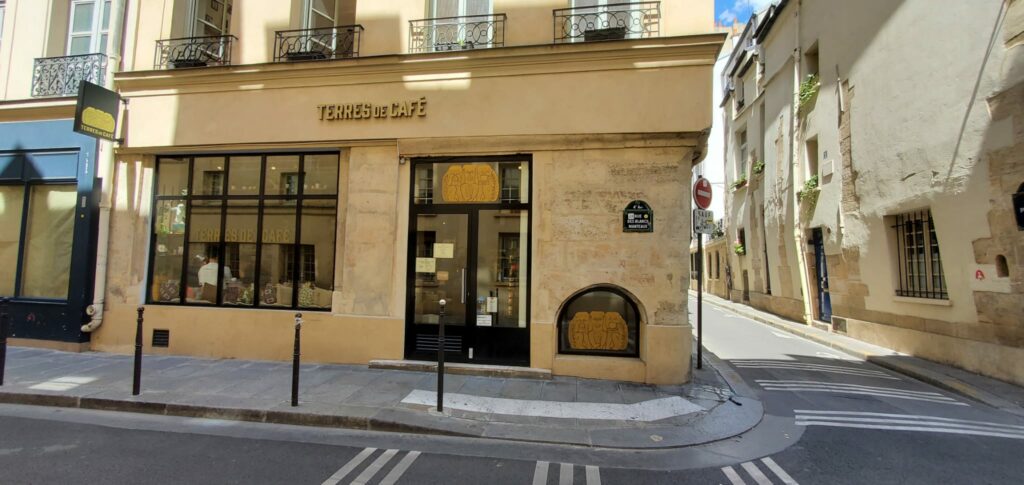 Photo courtesy of Barkha Awan
Céline:

What led you to work for Terres de Café?
Pierre:

In the beginning, I was a cook. I was studying in a famous French kitchen school but I fell in love with a cup of coffee that was fruity, acidic, and not bitter. And once I met Christophe, the owner and the creator of Terres de Café.
I had a bit of free time and I asked if I could stay for a while just to learn and to watch everything. He said yes and I never really left. So a couple of months after that I got employed at Terres de Café and now it's been six years.
Céline:

So, Pierre, tell us about what makes Terres de Café different from other coffee shops and what is unique about your process and production?
Pierre:

Well first, I think people come to our coffee shops because we care. Each and every one of the baristas spends every minute, every day, focusing on the quality, on the perfect coffee recipe, and try to provide outstanding customer service. This is very honest and the whole team shares this vision.
And also as a roastery, we are really committed to the farmers and the partners we work with. We only work for long-term relationships and we use the resources of Belco which is our importer based in Bordeaux and together we do a great job, I think.
With producers that are committed to sustainable farming and again long-term relationships in order for coffee to be still growing in five or ten years, we need to produce it in a better way and buy it at a higher price. So this is the whole picture we are trying to support and promote here at Terres de Café. And the people come here because they know they can trust us on this and yes we try to be very committed to the whole industry.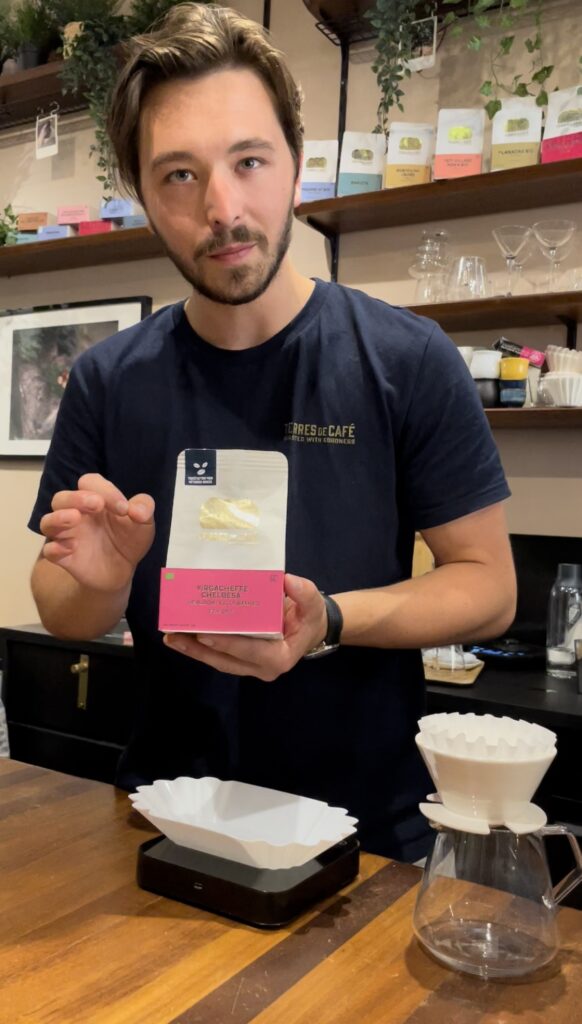 Céline:

What do you like the most about your job?
Pierre:

I think what makes me very happy as a barista is when people smile at me because they had a great experience. People, here, come for service, I mean you pay for a cup of coffee, and it's so rewarding to receive a smile or just happiness or kind words when people really enjoyed it. So, this is something really important for me.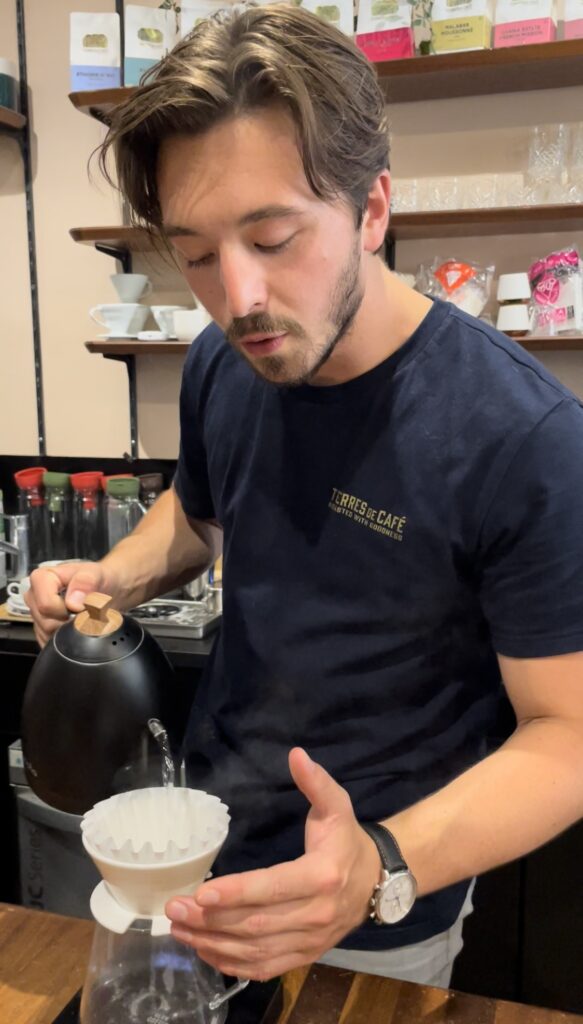 Céline:

What is your favorite cup of coffee?
Pierre:

I really enjoy filtered coffee. Obviously, I won the Championship, but also this is what I love to do on a daily basis. It gives a very pure and delicate filtered coffee without any bitterness. Would you like to try?
Céline:

Yes! Can you show us?
Pierre:

Okay! Come on, let's go, let's brew!
Stop by one of Terres de Café's locations in Paris to witness their mastery firsthand! And if you see Pierre around, don't forget to give him a smile. We all know coffee is a gift, and his expertise is certain to brew you the perfect cup.
Caffeine addict? Don't forget to check out The Ultimate Paris Survival Guide for more recommendations on local coffee shops I love in Paris!
Check out the French Friday video of Pierre's interview here on Instagram.