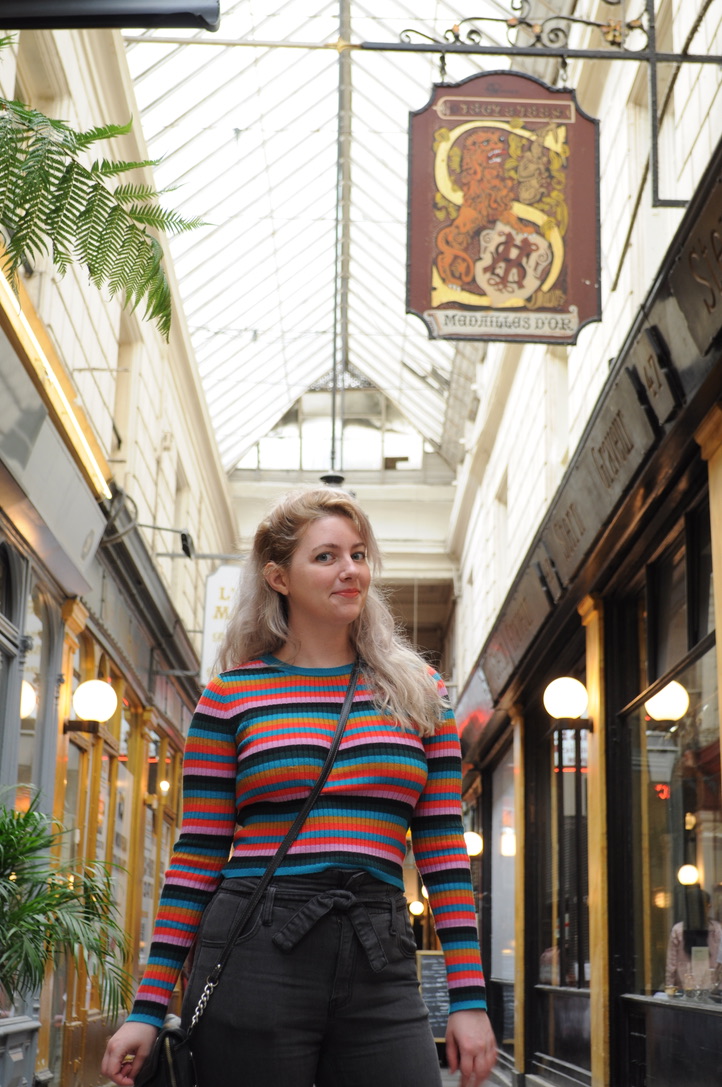 Hannah S.'s Full Interview
Reading Time:
8
minutes
DISCLAIMER:
This post may contain affiliate links which will reward me monetarily or otherwise when you use them to make qualifying purchases. For more information, please read my
privacy policy
and
disclaimer
.
Last Updated on April 28, 2021
Part 4
Paris Expat Series:
What it Means to Live in France
Hannah S.'s Full Interview


Austinite, casting associate, writer and book cover designer, Hannah S. has always been a francophile at heart. When she was 12 years old she took her first French language class. Her first trip to Paris was in 2015 to work on a short film. She doesn't want Paris to be the one that got away, so she has been back every year since and her ideal vision is to split her time between home and Paris. Ever since her first trip, she has become a seasonal visitor staying anywhere from 3-6 weeks each time.
---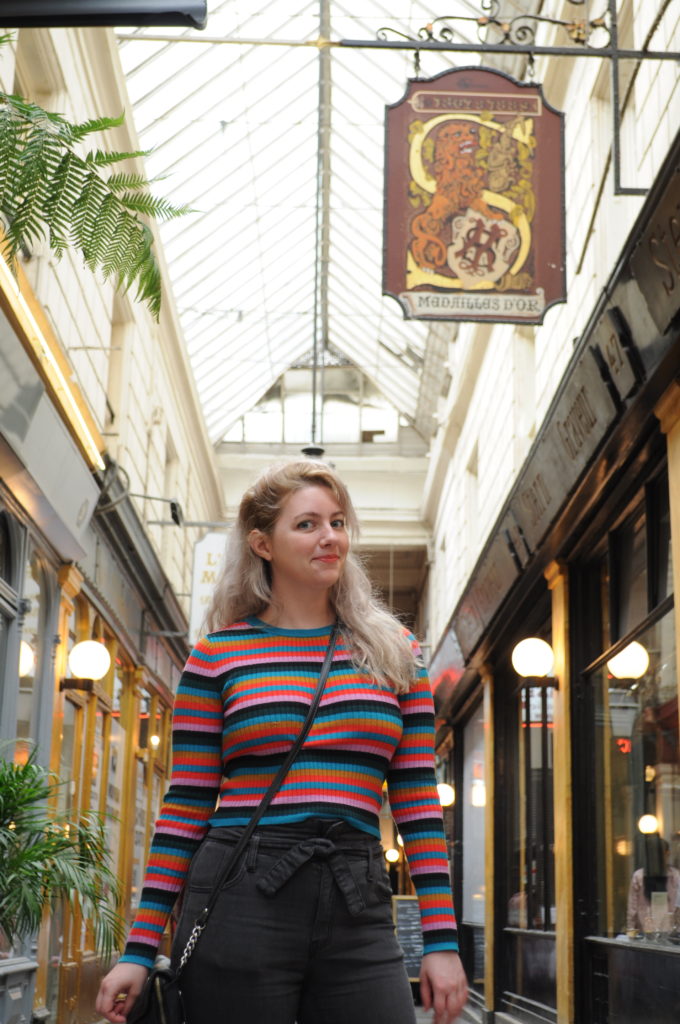 Why did you move to Paris?
I've always been a Francophile, probably since I was 12 years old. I took my first introduction to the language and I immediately fell in love. Growing up I had entertained the idea of being a foreign exchange student…I was lucky enough to know somebody in school who lived in Paris and wanted to work with me on a short film, so that gave me the opportunity to go and do something that I loved in the city that I've always wanted to visit.
And it really helped having a friend there because it made something that seemed impossible really possible.
Now I've been 5 times since 2015. I've spent 6 [total] months of my life in Paris! I usually come about once a year in the spring, late summer or fall.
What was your first impression of Paris?
Surprised by how dirty it is. It's not pristine the way that you think it is, like real people live there, it's a very real place…At the time, the trash men went on strike, which is apparently a very big part of French culture, so that was pretty funny. I guess I didn't realize how rebellious the people are…
I was also surprised by how transient it is. People there are in and out so much that I think that it was a little more challenging to connect than I hoped it would be.
You come into it with your expectations so high, that you almost don't expect the realness of it. And in that way, the grittiness and frustrations of Paris can be a negative – but they're also the things that make it a complex, authentic place.
What do you love about Paris?
There is nothing like a croissant from there for a single Euro! I love that the Eiffel Tower sparkles. I love the architecture, I love that everything is mostly cohesive, you feel like you're in a snow globe.
Also, the air there is just… Paris. Like I know when I step out of a taxi and I'm in Paris. I don't know it's just charming in all the ways you would imagine it would be.
All the cliches about it are true. And they're actually made richer by the fact that it's MORE real than anything else. One of my first weeks in Paris, I saw this kid in a striped shirt with an armful of baguettes. And I was so thrilled!
Another thing that I love is that you can drink on the streets there. All the basic enjoyments in Paris are all super simple, like eating and drinking and being with people, and picnics and walking…
Do you have a favorite book, film, or song about Paris?
I loved listening to corny French music growing up like Jenifer, Alizée, Zazie. 
What does living in France mean to you?
I've only lived in one place pretty much my whole life, and going to Paris challenges me in a way that I'm not challenged in my everyday life. Paris is a different lifestyle, a different living situation, it's a different language.
It forces me to be brave, it makes me live smaller and it makes me get out of my comfort zone. It makes me chase after something that I really want, but I've also spent enough time there that at this point, it feels a little bit like home. 
What challenges did you face with moving to Paris?
Language barrier, the conversion rate. It can be really isolating and lonely. I don't know why but if you talk to people who actually live there they will tell you the exact same thing. Paris is hard and there isn't a clear explanation for why. Everything you do is going to be challenged somehow, getting from point A to point B is a trek.
I'm from Texas and everything is bigger in Texas. Spaces are a lot tighter in Paris.You can feel a bit claustrophobic sometimes and you have to make a big effort to make your experience worth it. At least in my experience you do.
But on the positive side, people were not as snippy as I thought. I haven't really had a hard time with people in Paris at all, I think if you're eager and positive and kind people are not going to be frustrated with you or roll their eyes that you're in their city.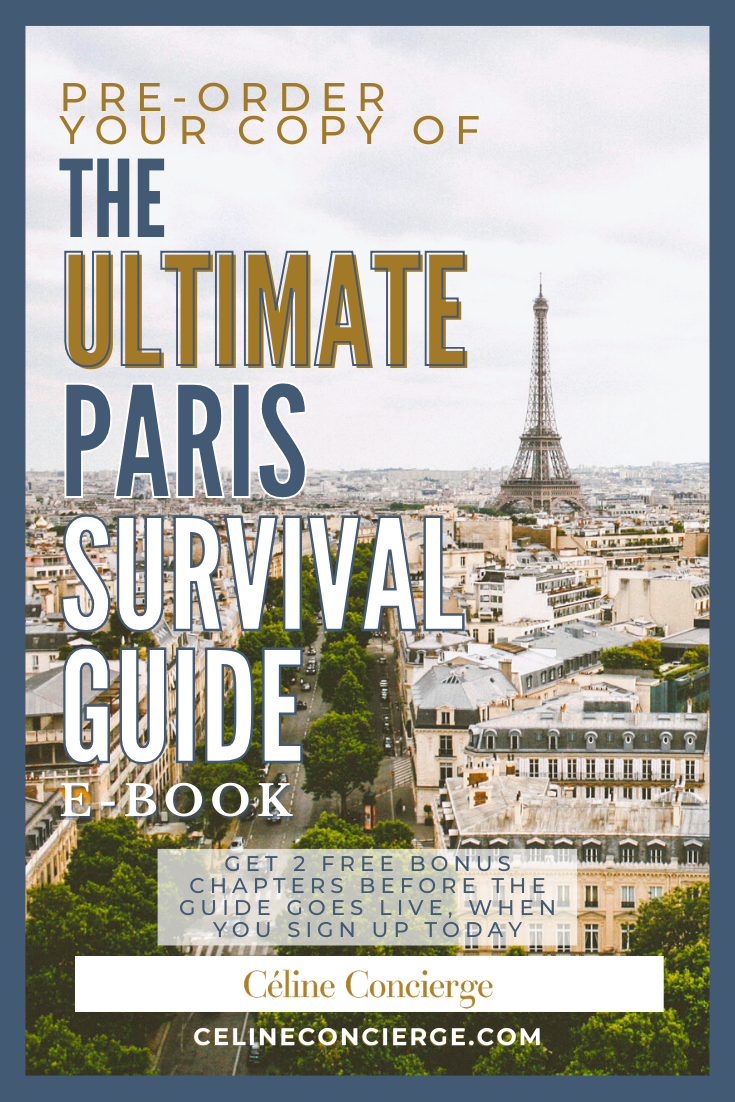 E-BOOK PRE-ORDER
Get your copy of THE ULTIMATE PARIS SURVIVAL GUIDE and become an expert in All Things Parisian!
Get first dibs plus 2 FREE chapters by leaving your email here and I'll contact you when the guide goes live.
I WANT IT!
☆
Click here to get your FREE PDF
Bucket List 2021
☆
What is a lesson you have learned from living in Paris?
I have learned that you have to go after what you want. You have to fight through the fear and sometimes do things alone.
I got tired of not experiencing the things that I was too afraid of. To experience the full benefit of Paris – you have to figure out a way to get out of your comfort zone and explore and just be content not knowing or doing it perfectly. Paris forces you to go with the flow. 
What has been your visas situation while living in France?
I've always had the tourist visa because I always visited for 2 months or less at a time.
My ideal vision would be to split my time. I don't want Paris to be the one that got away, but it's scary for me. Leaving my life in Austin is a big ask. I do want to move to Paris eventually. I would love to commit to Paris a little bit more permanently.
What is your biggest frustration with Paris?
Because I haven't moved there full time, I haven't had to deal too much with the crazy bureaucracy, but everything is 10 times harder than it has to be.
Nothing happens quickly in France… Which is why people are good with going with the flow, but that's why they're also really impatient at the same time.
Things take longer there and it's good to manage your expectations.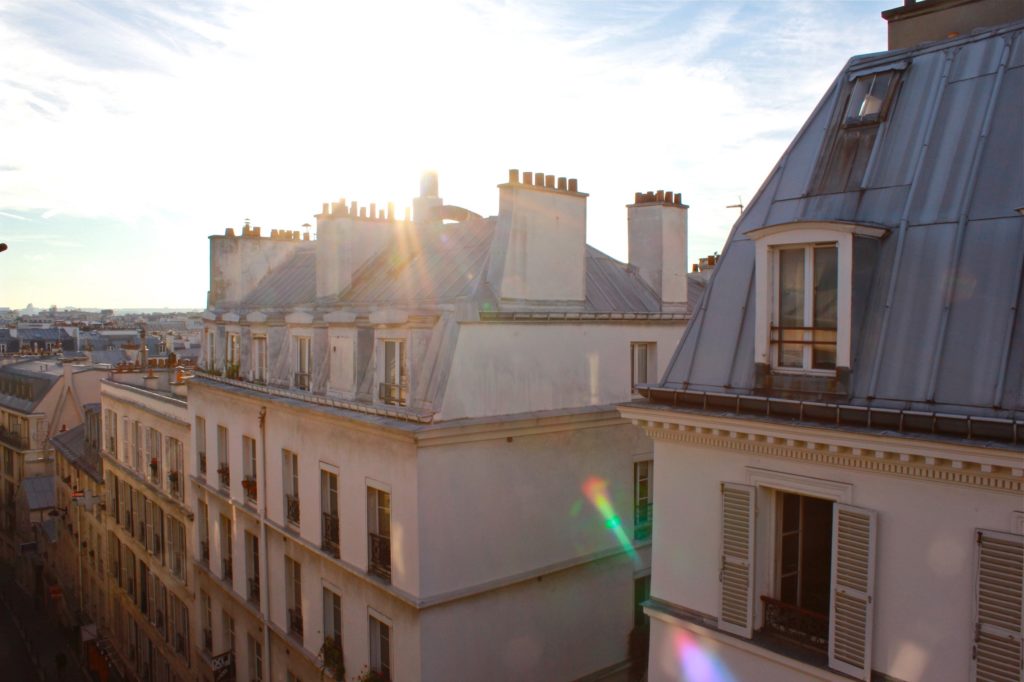 Photo Credit: Hannah S.
What's your favorite thing to do in Paris?
Going down to the boulangerie and getting croissants then sitting in a park or coffee shop, working for a few hours, having appetizers and drinks with friends then wandering in the city and seeing what it has to offer.
What would you tell someone who is like you and wants to move to Paris?
Just do it.
Look into visas. Think about all the practicalities. Think about how you're going to spend your time and make Paris your own.
If you don't know those things, it can be really easy to walk into a place that is frustrating and lonely.
Dreams are put on your heart for a reason, and doors can open for you to follow them. If you see that happen, go after it.
☆
For more insider secrets check out:
Enjoy

10 Remarkable Ways to Experience Paris Like a Local 
☆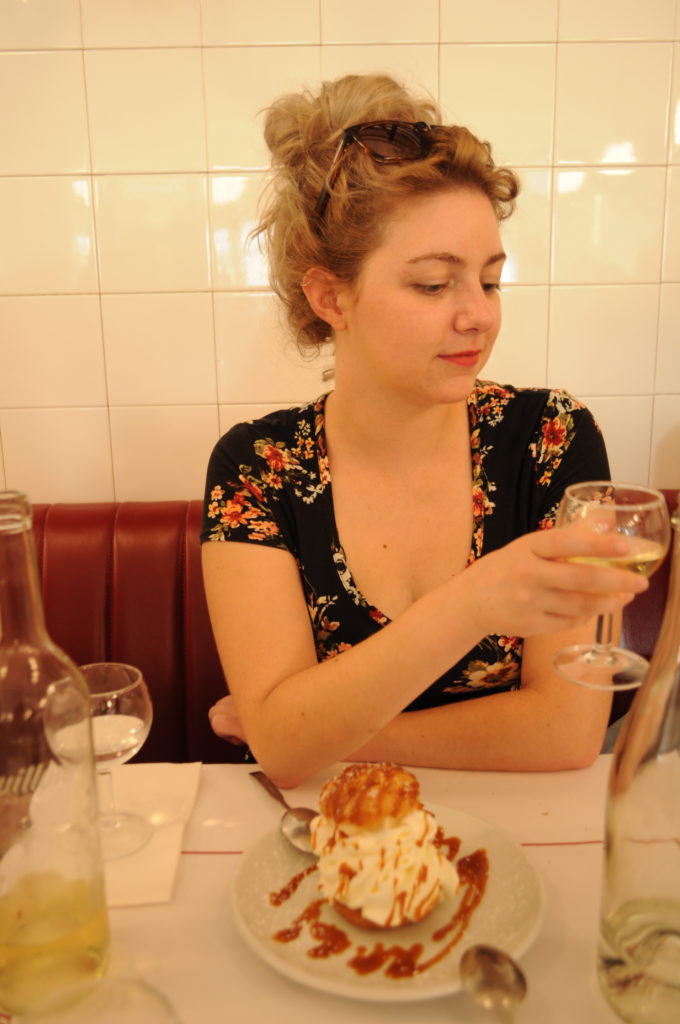 How can Céline Concierge help you in the future?
If I moved there r
elocation services, for sure! 
Accommodations, pet relocation, basic steps and tips and tricks like how to set up a bank account and which visas to apply for. All the things you need to do to get set up in a foreign country. 
Céline, you have so many good ideas for things to do, so having someone who has experience is helpful for pointing you in the right direction. Because you've already done those things and have personal experience, I trust that you know how to navigate French bureaucracy.
Would you recommend Céline Concierge services?
Recommend for sure! I trust your expertise, I would turn to your resources and blog posts for direction.
---
Check out the other parts of the series: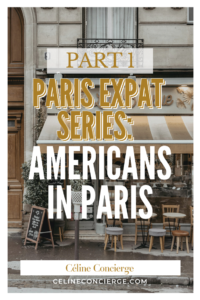 We explore the idea of an expat and what motivates people to move to Paris.
There's an introduction to the 6 friends I interview throughout this series.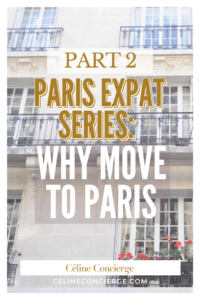 We'll dive into first impressions and why they moved to Paris along with what they love about the place. 
Full interviews with Jim  Le, a seasoned expat turned French national & John Arndt, a musician and France newcomer.

We'll cover how people move to Paris and what lessons they learn from living here. We examine learning the French language and what their biggest frustrations are. 
Full interviews with Claire A*., an entrepreneurial drama therapist & Eric Davis, a design professional in the construction industry

We'll continue to explore the challenges and struggles of living in France. I also ask what they would tell their younger selves if they had the chance.
Full interviews with Hannah Smith, a seasonal visitor, and digital nomad & Hope Curran, an art student attaining her master's degree.

Finally, you won't want to miss this detailed interview with my friend and immigration attorney

Daniel Tostado

.
He gives us an insider's scoop on the different Visas to be able to move to France and ways to apply. 
Full Interview with Daniel Tostado, an immigration attorney in Paris.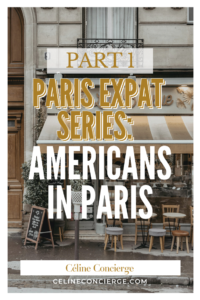 ---
☆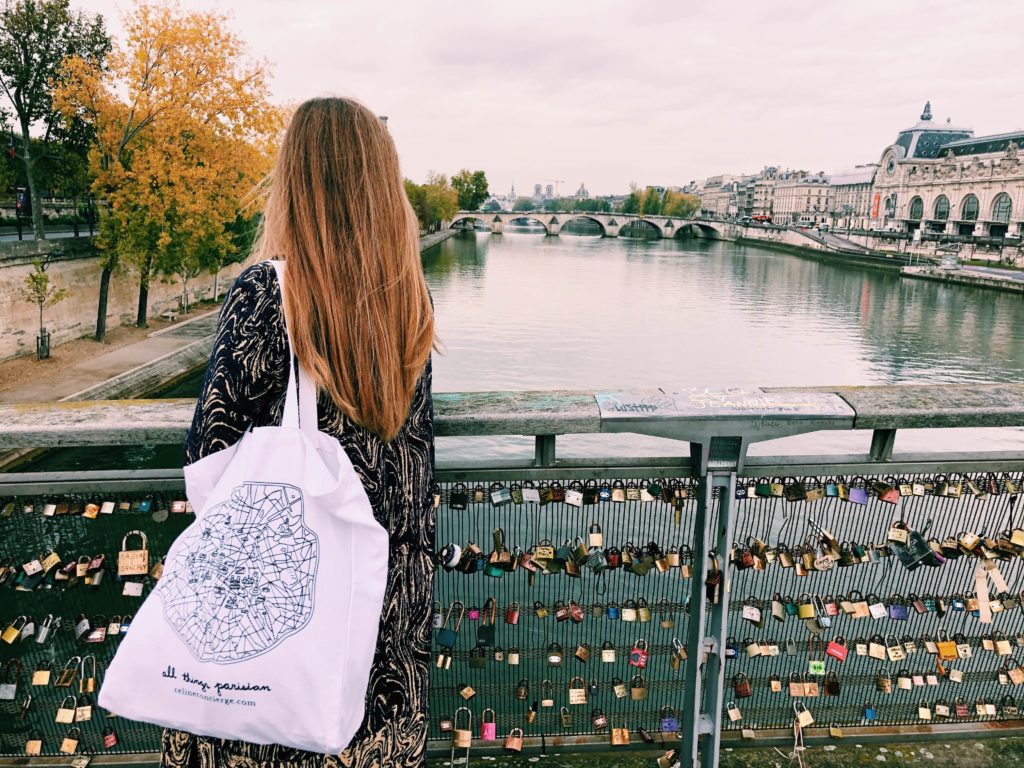 ☆
Other posts you might enjoy:
To find out more about me, your Paris concierge, you can read my blog post Why I moved to Paris
☆