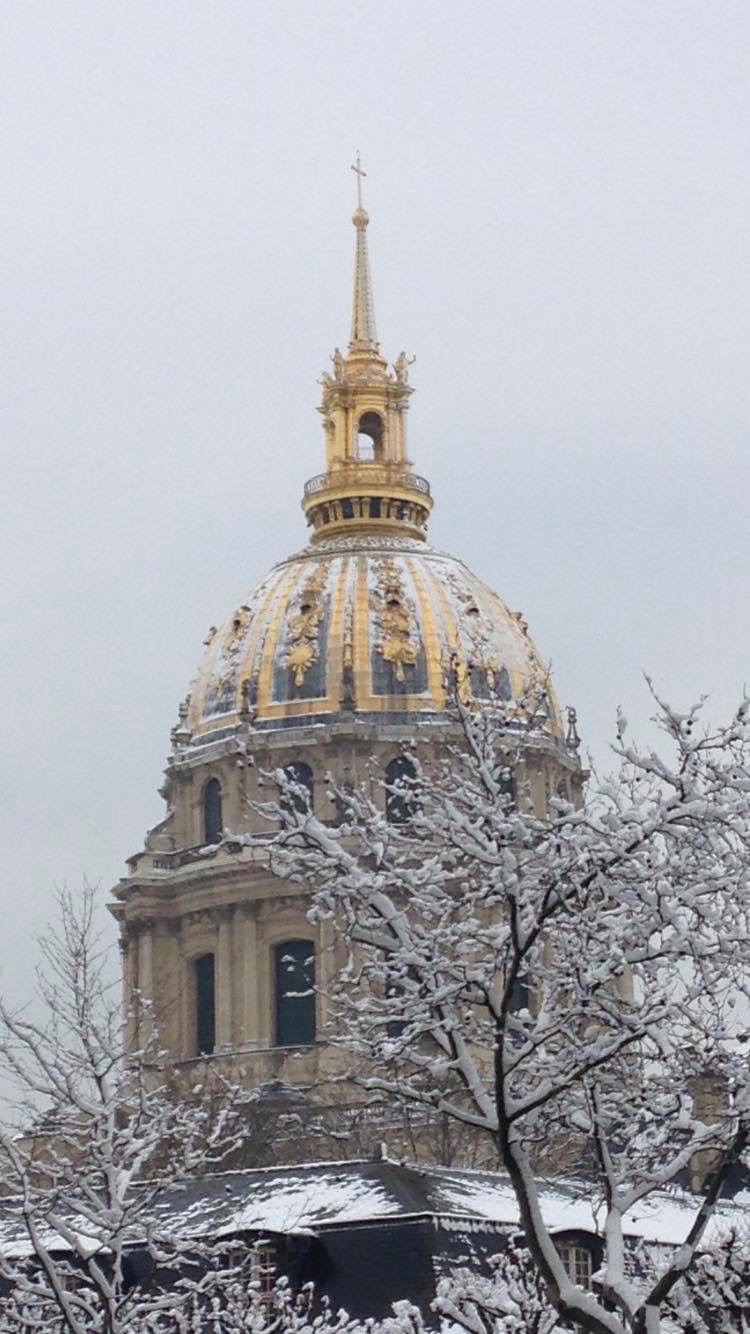 Claire's Full Interview
Reading Time:
8
minutes
DISCLAIMER:
This post may contain affiliate links which will reward me monetarily or otherwise when you use them to make qualifying purchases. For more information, please read my
privacy policy
and
disclaimer
.
Last Updated on May 7, 2021
Part 3
Paris Expats:
How do Expats End Up Living in Paris?
Claire's* Full Interview
Claire's an actress and art and drama therapist/educator from Melbourne, Australia. She did a study exchange program in Montreal, Canada when she was 16, which sparked her love for living in a different city and being in a different culture than her own. She first visited Paris a few times when she was living in London, but never really fell in love with it, it was never her dream to move to Paris. But she applied for acting school there, was accepted, and moved to Paris in 2009 and has never looked back.
---
Photo Credit: Claire*
Why did you move to Paris?
I moved to Paris in 2009, I had just turned 23. I got accepted to the Jacque Lecoq acting school. It's a school that is based on the poetry of the body. And this is what I wanted to study because I wanted to connect to my body.
When I arrived, I basically left my whole life behind in Australia – my boyfriend at the time, my family, I arrived in Paris and I barely spoke any French and I knew nobody.
I planned to be in Paris for one year, but it has now been 11 years.
What was your first impression of Paris?
This is one of the clearest memories of my life. So I landed in Paris and I got my bags and I got into a taxi and I gave the address, in Montmartre, of the apartment I was renting with some girls. And I remembered driving down the highway and arrivng in a north exit of the highway, near St. Ouen.
And as we came over a bridge and off the highway there was a big tree– it was in September, it was the nice time of year and it was warm– and behind the tree I saw Sacré Coeur and I just started crying because I felt so happy to be in France and I felt like it's where I should be. I had this sensation of like 'I'm home', just from the taxi ride!
What do you love about Paris?
I love the authenticity of the French. It's funny I said I was never drawn to living in Paris, but all my high school friends remember me by how much I loved French. I think I was always somehow drawn here.
I was very drawn to the revolution spirit. I love the French revolution and the people really claimed back their rights. And I find that spirit very present in the French people.
I love the cakes.
I love that as an artist you can live and live well… I think France opens up so many opportunities for people to be independent workers and to be artists. At the same time you can't grow as an independent business if you're a small business– and this is a problem. As a student as an artist and a small business owner you can really live your life
I love the beauty of the city, with architecture that dates back older than my actual birth country.
What challenges did you face with moving to Paris?
Bureaucracy! In order to get an apartment contract you need a bank account, in order to get a bank account, you need a phone account, and in order to get a phone account, you need to have an apartment.
I think that in the end, the bank lady was kind enough to open up a bank account so I could get a phone and then use my bank account to get my rental contract. So she just did me a favor…
I also found Isolation was quite difficult, I found it hard to break into friendship circles with the French– and I still do. I have a few very close french friends, they are one or two. I've never broken into a circle of friends, so to speak. I find the French women especially very difficult to make friends with– Parisians actually– let's be specific here.
Another challenge was financially. I just wasn't earning much money and as an artist it was difficult. But I think that if you're ready to live simply and have simple things then you won't suffer, unless you're coming with a great salary, you'll be fine.
Did you know French? If yes, where did you learn the language? If not, how did you learn?
Acting school was mainly in mime.
Otherwise I threw myself into acting classes that were only in French. Every opportunity I got I would just speak French, avoiding the English speakers.
After 2 years I was bilingual.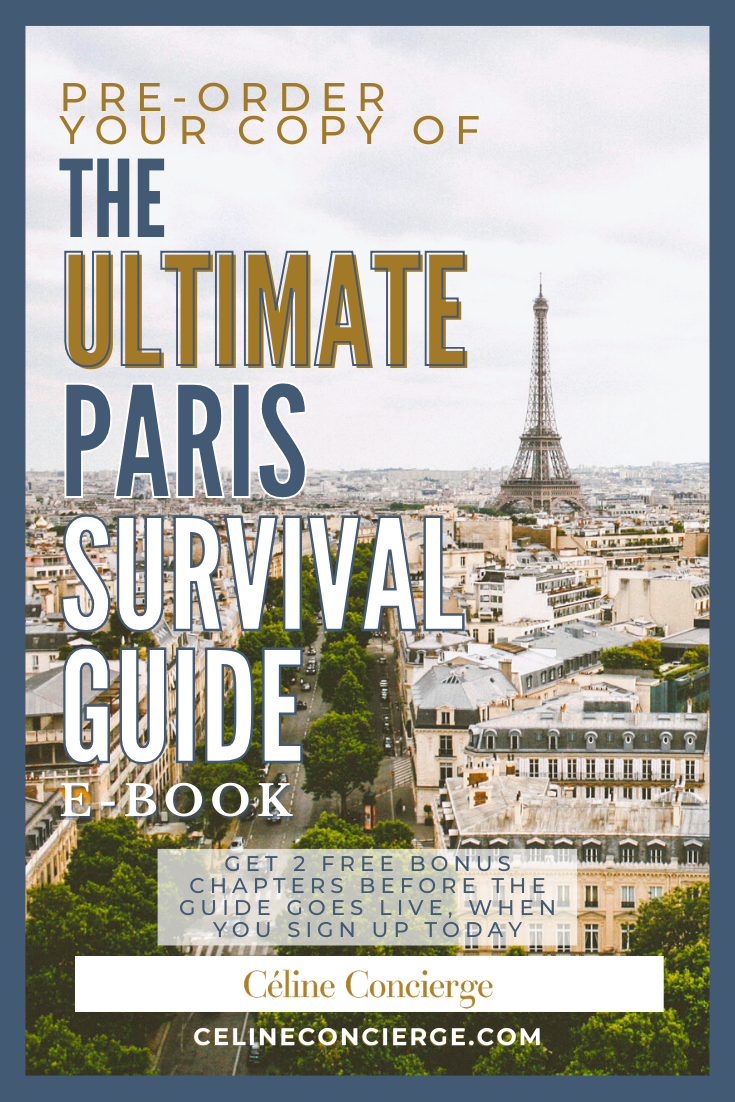 E-BOOK PRE-ORDER
Get your copy of THE ULTIMATE PARIS SURVIVAL GUIDE and become an expert in All Things Parisian!
Get first dibs plus 2 FREE chapters by leaving your email here and I'll contact you when the guide goes live.
I WANT IT!
What is a lesson you have learned from living in Paris?
Patience.
You wait in lines, you wait on the phone, things take forever! It's not today. It's in three weeks, you have to be very patient with the French. I've learned to be more direct and honest with your feelings.
Now, I'm much more confident to say something when something is not sitting right. I think also being bi-lingual, you don't always have time to nuance things so you just get to the point.
It can be a bad quality as well, it's not always positive. But I'm glad I've developed the skill of being more direct.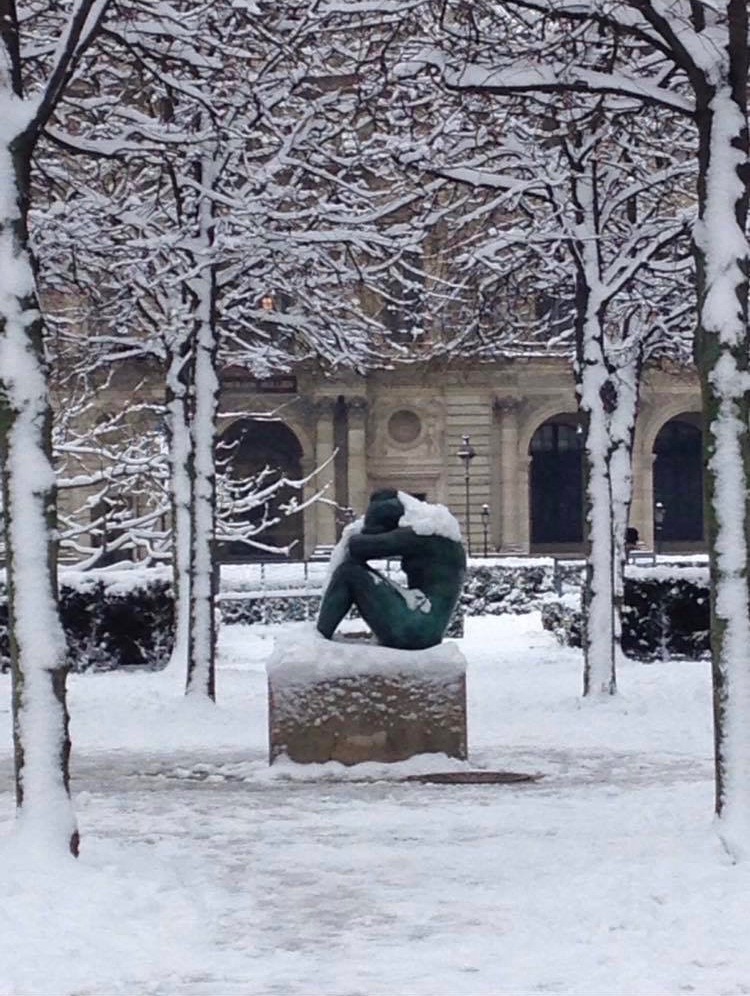 Photo Credit: Claire*
What is your biggest frustration with Paris?
The aggressivity, the tension, the stress. That's frustrating to me, it's always there, it's like a pressure cooker.
What is your biggest love about Paris?
My husband, who's French!
What kind of visas/resident permits did you have to be able to stay in France?
I went from a student visa for the first two years then I converted it to a working holiday visa which is for 1 year which allowed me to work full time.
After that, I went back to Australia and I worked really hard to develop a dossier for the profession libérale titre de séjour. It's a very difficult card to get, you have to prove that you have a lot of business that's going to be generated – that you have clients already interested in working with you.
I got this visa so I could get the official auto-entrepreneur status. It took about 6 months to get the dossier together.
So I stayed on that until I met my now-husband and now I'm on the vie privée et familiale card.
☆
Click here to get your FREE PDF
Bucket List 2021
☆
What's your favorite thing to do in Paris?
I love the picnics on the canals. Some good wine, cheese, bread and friends and a canal or a park. I think that's something I love about Paris. I mean you can do this in any city, but it just feels special in Paris.
What would you tell someone who is like you and wants to move to Paris?
Do it!
In my experience, Paris has something for everybody. I really feel like you can be a family with kids going to a local school and you'll find a great community here. You can be a business person who's looking for great restaurants and you'll find that. What's great about Paris is that there's really something for everybody.
What is great about it that there is something great about it for everybody
You can open up a door to whoever you are into Paris.
☆
For more insider secrets check out:
for a One-of-a-Kind Experience
Enjoy

10 Remarkable Ways to Experience Paris Like a Local 
☆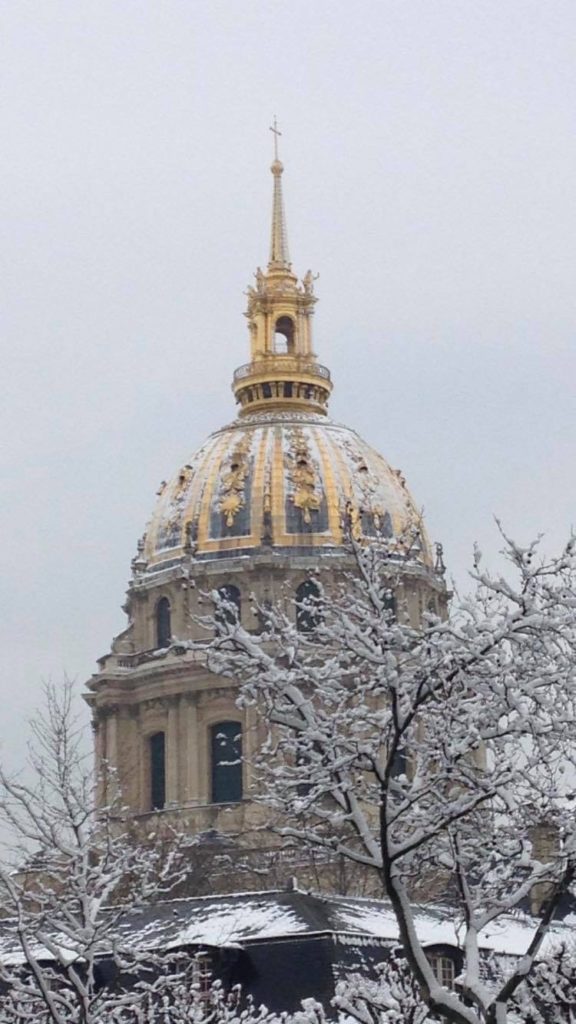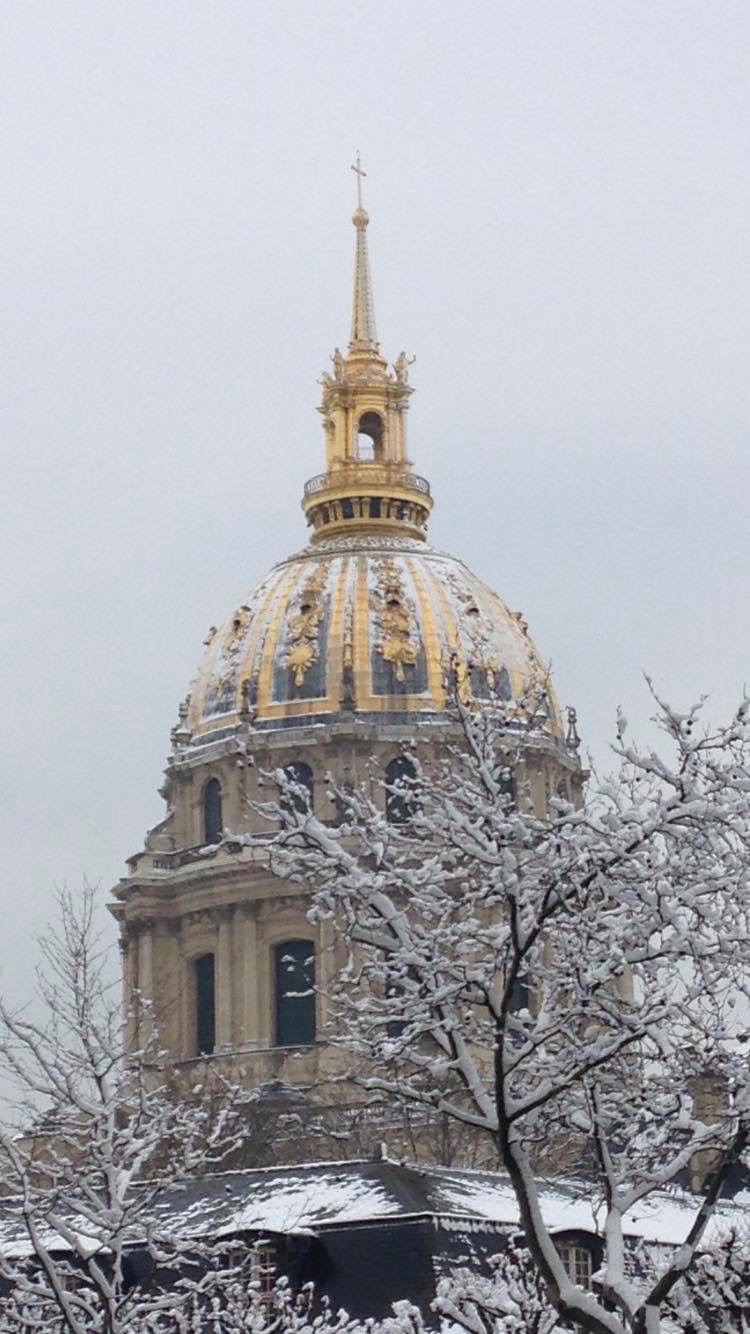 Photo Credit: Claire*
What would you tell your younger self if you could speak to that person today?
Don't stay in Paris if it's too challenging. I would have said pray about it.
I would have said, don't waste my time going on dates with so many bad French men. I genuinely would have said, 'don't waste your time'. The things I could have done with my life, if I hadn't dated people.
Would you recommend Céline Concierge services?
You're a trustworthy person who will work hard for the client and will deliver quality work.
I think your services are important because see you seem to offer everything that someone could need; it's not just the flights, its cultural and integration and its administrative…
Your strength is that you can open a door into Paris for anybody, whoever they are, you have something to offer them.
Do you have a favorite book, film, or song about Paris?
Le Dîner des Cons! And for music I love the Amélie soundtrack.
Is there anything else you want to add?
In my experience, Paris has something for everybody…
*Name changed for professional reasons. 
---
Check out the other parts of the series: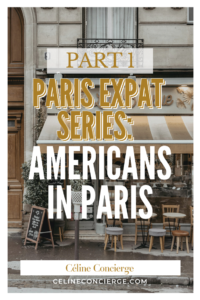 We explore the idea of an expat and what motivates people to move to Paris.
There's an introduction to the 6 friends I interview throughout this series.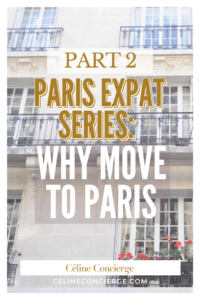 We'll dive into first impressions and why they moved to Paris along with what they love about the place. 
Full interviews with Jim  Le, a seasoned expat turned French national & John Arndt, a musician and France newcomer.

We'll cover how people move to Paris and what lessons they learn from living here. We examine learning the French language and what their biggest frustrations are. 
Full interviews with Claire A*., an entrepreneurial drama therapist & Eric Davis, a design professional in the construction industry

We'll continue to explore the challenges and struggles of living in France. I also ask what they would tell their younger selves if they had the chance.
Full interviews with Hannah Smith, a seasonal visitor, and digital nomad & Hope Curran, an art student attaining her master's degree.

Finally, you won't want to miss this detailed interview with my friend and immigration attorney

Daniel Tostado

.
He gives us an insider's scoop on the different Visas to be able to move to France and ways to apply. 
Full Interview with Daniel Tostado, an immigration attorney in Paris.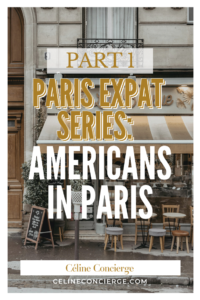 ---
☆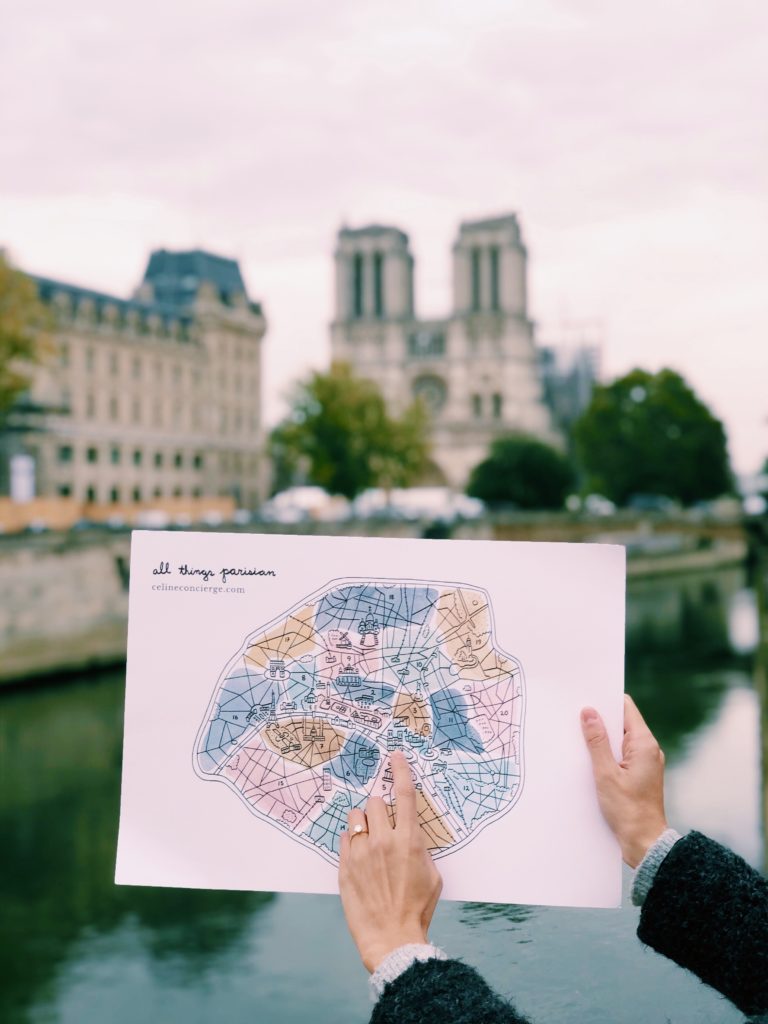 ☆
Other posts you might enjoy:
To find out more about me, your Paris concierge, you can read my blog post Why I moved to Paris
☆