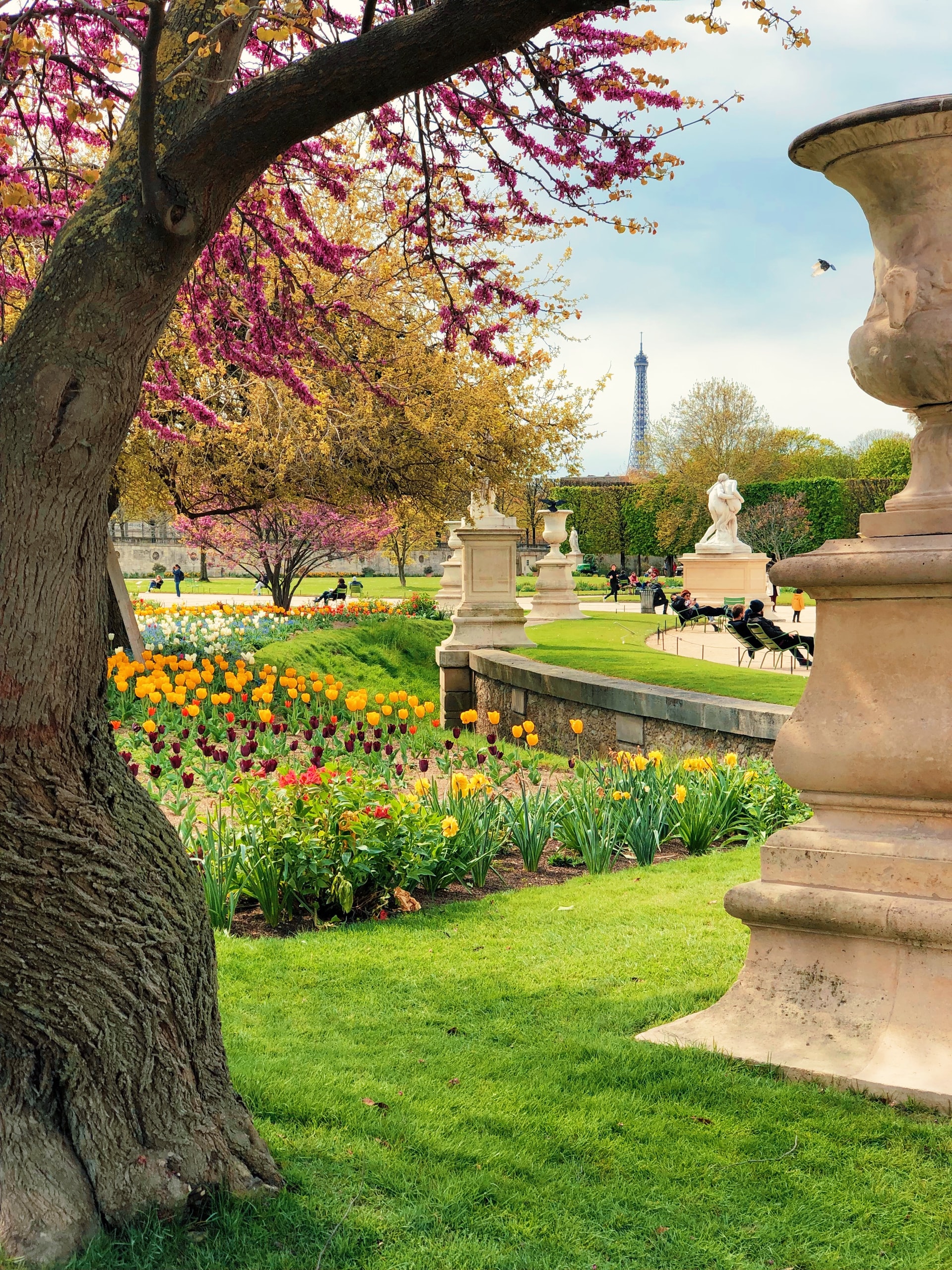 12 Stunning Paris Parks and Gardens
Reading Time:
7
minutes
DISCLAIMER:
This post may contain affiliate links which will reward me monetarily or otherwise when you use them to make qualifying purchases. For more information, please read my
privacy policy
and
disclaimer
.
Last Updated on March 23, 2022
Paris' Best Parks and Gardens to Visit on Your Next Trip
Paris may seem like a concrete jungle, but there are many more green spaces than the city reveals at first glance. Did you know that it has over 500 green spaces for you to stroll through and relax in? ⁠Paris' range of stunning parks includes everything from secluded, miniature squares overflowing with trees, urban gardens, to spacious, walkable city parks with whitewashed statues and olive green chairs to the famous "champs" or fields like the lawn of the Invalides or Champ de Mars featuring the Iron Lady, herself.
By 2024, the year the City of Paris will host the Summer Olympics, it is planning to create even more urban spaces and parks turning the city into a greener and more walkable capital.
For instance, the city is commissioning various architects and city planners to transform the Champs-Elysées into a more walkable, green space with fewer cars. Likewise, the Montparnasse area will get a facelift, as well as the city skyline with the installation of various rooftop gardens across Paris.
Continue reading for my top picks of the most stunning parks and gardens in Paris for any visitor or returning traveler to take advantage of the sun and maybe even a Parisian-style pique-nique with friends!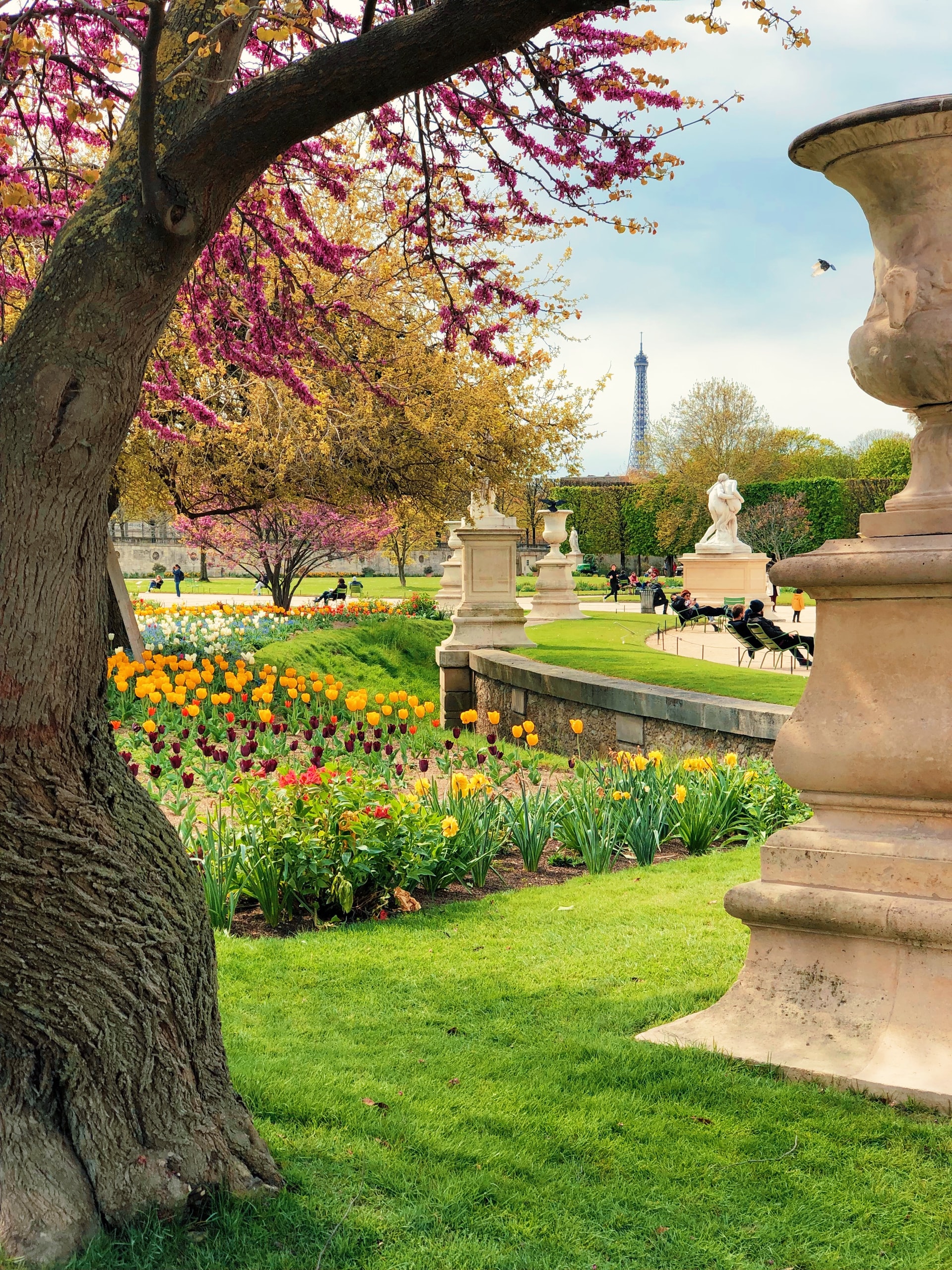 Photo Credit: Behzad Ghaffarian
Right in the heart of Paris, this historic garden grounds with its iconic olive green chairs is the perfect spot for a stroll and an afternoon pause. In the summer, you can have an adventure at the fair on the grounds. It's also an excellent park for kids to roam around, too. Its family-friendly vibes, beautiful garden landscape, and the fact that it's tucked between the Musée du Louvre and Place de la Concorde make it a stunning Paris park with a great view of the Eiffel Tower.
☆
Click here to get your FREE PDF
Bucket List
☆
Known as the botanical garden of Paris, this special place houses the Muséum national d'histoire naturelle (National Museum of Natural History), a ménagerie, or zoo, greenhouses, libraries, and archive buildings, as well as several galleries featuring botany, geology, and mineralogy. Not only is the Jardin des Plantes ideal for a stroll, but you will also find rare species in the plant life here that are the ideal backdrop for a picnic.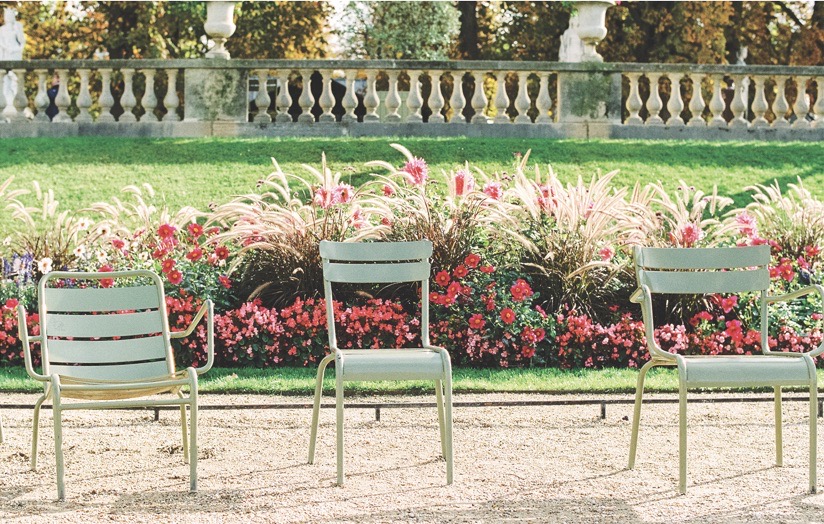 Photo Credit: Marissa Wu
This spacious park has something for everyone. Whether you're a runner or a flâneur (wanderer), you're going to love this divine garden with its fountains and blooming flowers. Even if you've been to Paris already, it's a must-visit for locals and tourists alike.
This little oasis in the 8th arrondissement is a dream waiting to be had. The charming little statues, pathways, and manicured lawns are another great setting for a picnic and walk in the park. If you're a runner, it's a perfect paradise for a jog.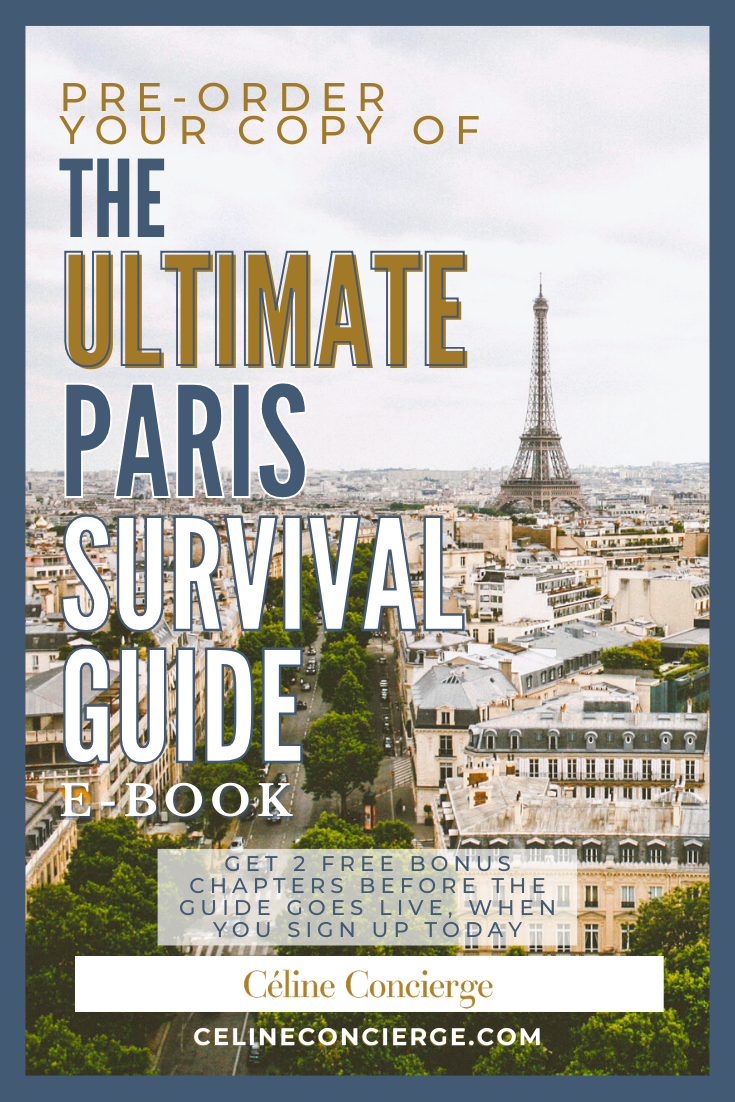 E-BOOK PRE-ORDER
Get your copy of THE ULTIMATE PARIS SURVIVAL GUIDE and become an expert in All Things Parisian!
Get first dibs plus 2 FREE chapters by leaving your email here and I'll contact you when the guide goes live.
I WANT IT!
This secret enclave is a lovely getaway in the heart of the Marais neighborhood worth checking out. The stunning architecture of the buildings surrounding this green space makes it the quintessential picnic spot as well as a picturesque background for a photoshoot, or simply a stroll.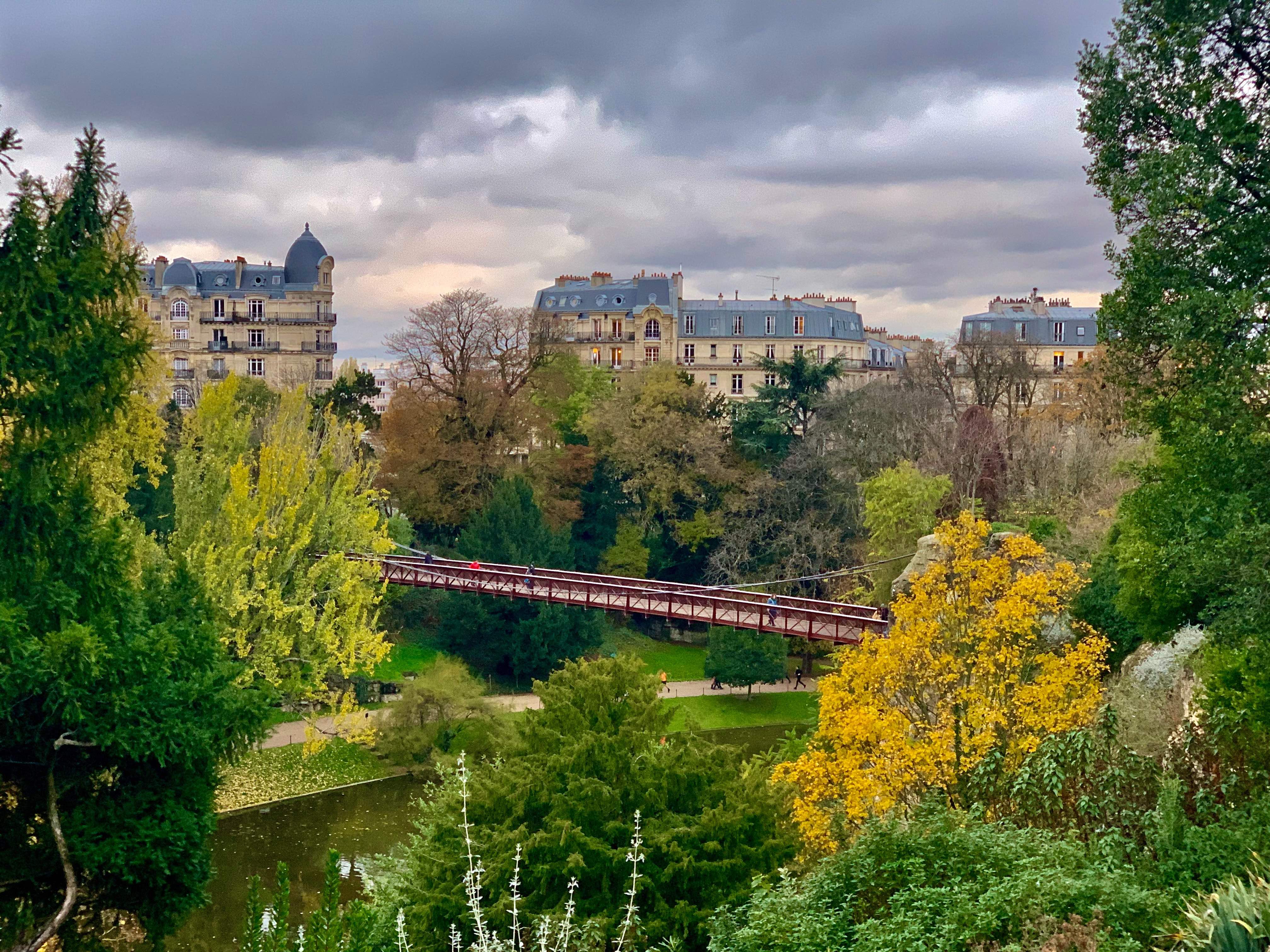 Photo Credit: Yannis Sommera
If you want to experience a true Parisian day, take a picnic to the Butte (or hill) on any sunny day. The park will be teeming with locals on a run, picnicking, and sunbathing. What makes this spot a unique park to visit in Paris is its altitude. It's one of the highest places to get a nice view of the city while taking in the sun and just relaxing. A fun bonus is the after-hour drinks you can take pleasure in at Rosa Bonheur Bar and Restaurant inside the park. That makes for a full day of advertisement, or fun.
To truly experience Paris like a local, I highly recommend taking a moment of your travels to pop into the historical Anne Frank Garden. It's secretly tucked away between the Parisian buildings of the Marais and little-known to travelers. This city sanctuary with lots of shade is the ideal park to gain refuge from the hustle of Paris as well as a nice spot for kids to play. The garden features an orchard and a graft of the chestnut tree that Anne Frank admired from her window. It also neighbors the Museum of the Art and History of Judaism – pay a visit if you have the time.
This urban green space used to be a car factory and is now a vast park featuring a moored hot-air balloon. You can get one of the best 360-degree views of the city atop the Ballon de Paris Generali, starting at only 7 euros. Besides the fantastic view, this park offers with the balloon, it's a large green space that you are sure to relax in, play some frisbee, and find some solitude.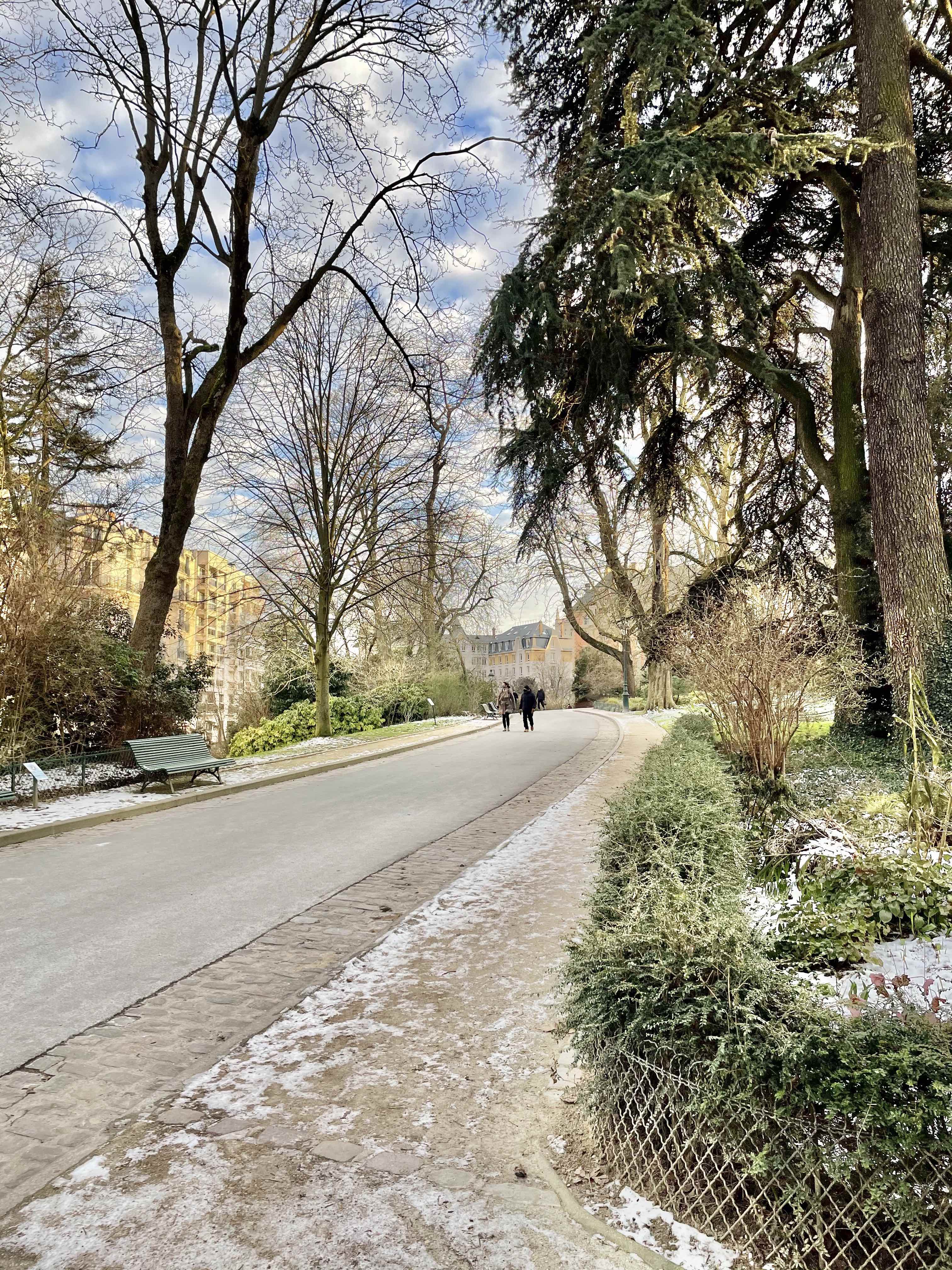 Parc Montsouris is a charming and spacious park on the edge of the city perfect for a morning jog. You will often see university students picnicking here as it's the go-to for young adults residing nearby at the Cité Universitaire grounds. Did you know? Emperor Napolean III commissioned Hausseman to create this 38-acre park in the late 19th century.
This large wooded park is the second largest only after the Bois de Vincennes and is located along the western border of the 16th arrondissement. It's home to the Château de Bagatelle, a small hunting lodge that was originally designed to house members of the royal family and friends while they hunted on the grounds. The Jardin d'Acclimatation is also a part of the Bois as a small children's amusement park. Lakes, waterfalls, and wildlife are a part of this park and help you feel like you're far from the city when you step inside.
It's the largest public park in Paris located on the east border of the 12th arrondissement. The Parc Floral, or Floral Park of Paris (botanical gardens), the Paris Zoo, and Lac Daumesnil (Lake Daumesnil) are a few of the unique features of the park that are worth paying a visit to. Visitors can rent rowboats and picnic on them for an afternoon on the lake or simply stroll through or bike on the many foot and bike paths of the nearly 2500 acre park. Another highlight of the park is the 14th-century Château de Vincennes which is open to the public.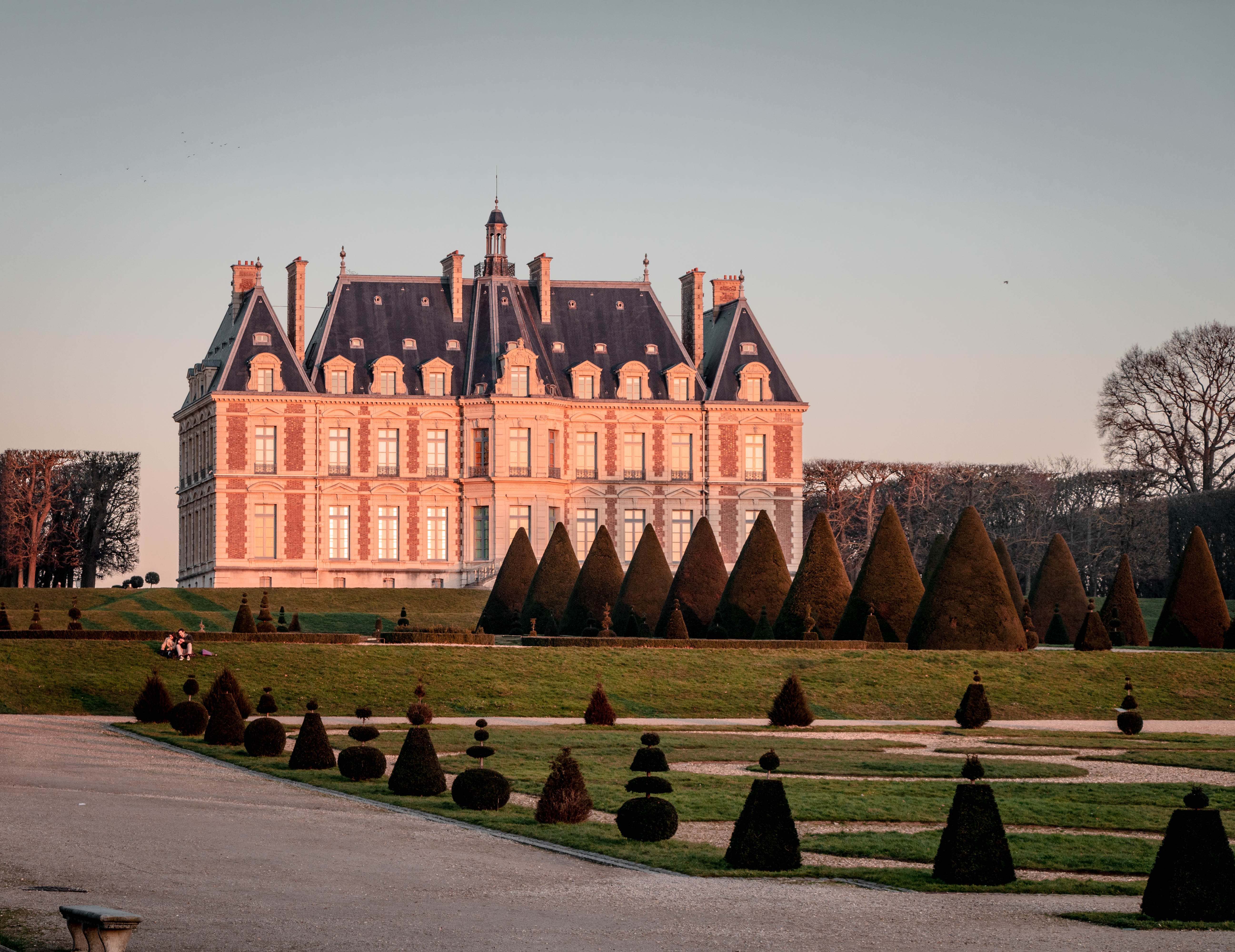 Photo Credit: Louis Paulin
Last on the list, but definitely, not least is the stunning Parc de Sceaux! Visiting this oasis during the cherry blossom blooms is pure magic and nothing says spring in Paris more than cherry blossoms in bloom – and they have two large orchards of them! This park grounds is a mere 30 minutes outside of Paris and easily accessible on the RER train line B.
The backdrop of this park with its stunning château in the background is an ideal photo spot for engagement photos or selfies with friends on any given day! The Château de Sceaux once belonged to royalty and is even older than Versailles – you can say it's the mini-Versailles that inspired the home place of Louis XIV, his son, and Marie Antoinette to follow.
Conclusion
As you are now aware, there is a wide range of green spaces and stunning parks and gardens in Paris to enjoy and escape the busy cityscape. If you're visiting, try to enjoy at least one park every day and change it up so you can experience as many of these lovely green havens as possible.
If you've enjoyed this list then you will love my upcoming ebook The Ultimate Paris Survival Guide which is set to hit our online shop in April 2022. I personally recommend everything from hotels to restaurants to spas to secret Paris adventures for your next trip! There is something for everything in this ebook just as there is in Paris for every traveler!
Interested? Still not sure? In either case, join The Ultimate Paris Survival Guide Waitlist to get exclusive discounts during our pre-sale AND receive 2 FREE BONUS CHAPTERS straight from the book NOW!
Thanks for reading to the end! I would love to hear from you in the comments: What is your favorite Paris park or garden? Is it on this list? 
☆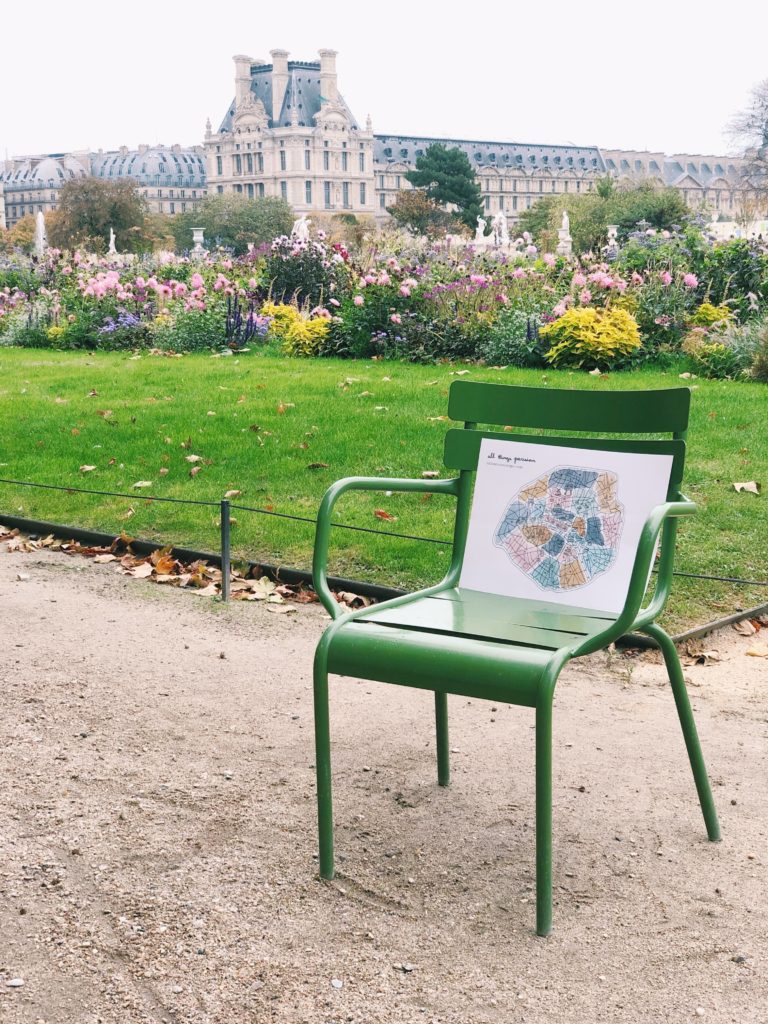 ☆