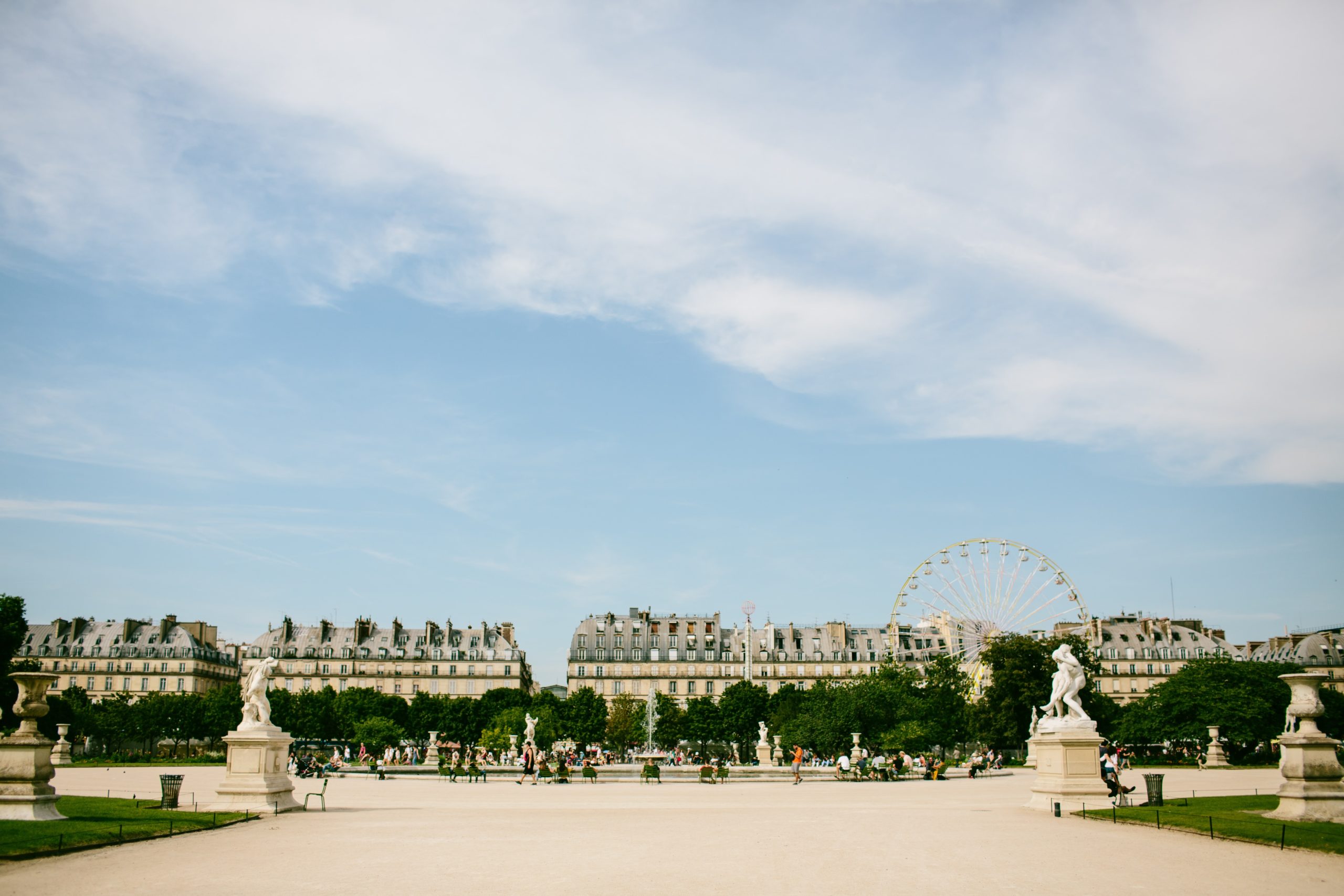 The Paris-in-August Phenomenon
Reading Time:
4
minutes
DISCLAIMER:
This post may contain affiliate links which will reward me monetarily or otherwise when you use them to make qualifying purchases. For more information, please read my
privacy policy
and
disclaimer
.
Last Updated on July 21, 2021
Paris in August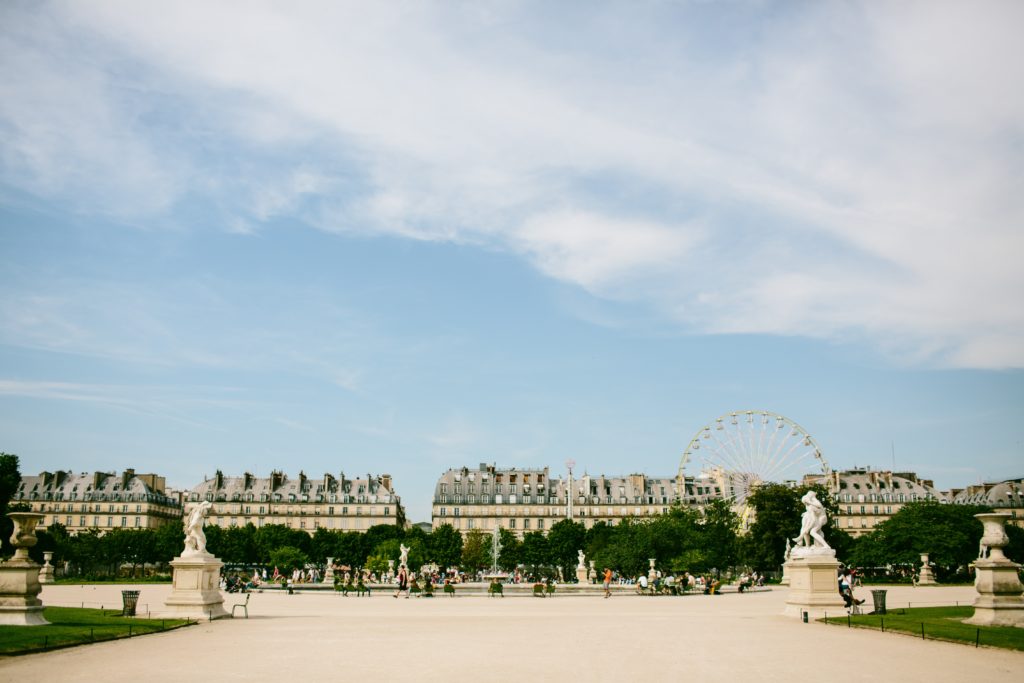 Back in August of 2013,
I stepped off of a plane in Paris and

 soon discovered the strange phenomenon that is Paris in August.
Anywhere from mid-July to the end of August, Parisians are more or less taking time off to enjoy

les vacances d'été

(or summer vacation). In their annual exodus, Parisians take off in hordes to the south of France or to their second homes somewhere

en province

(the provinces of France not deemed the capital).
If they themselves don't own property, they bunker up with friends or family to enjoy weeks of the Mediterranean, Pastis, pétanque and St. Tropez.
During the month of August there are likely to be more tourists than locals in Paris (exceptionally not this year, of course). You can expect Paris to be somewhat of a ghost town with many cafes, shops, bakeries and restaurants closing shop for several weeks to go on holiday, do renovations or both before

la rentrée

, or the back-to-school season.
If you prefer a bustling city then I don't recommend visiting in this season, especially if you know that you have some local mom & pop shops and cafes you are dying to visit while here – these are likely to be closed in August.
Don't be disappointed to see signs like this one below taped to business doors: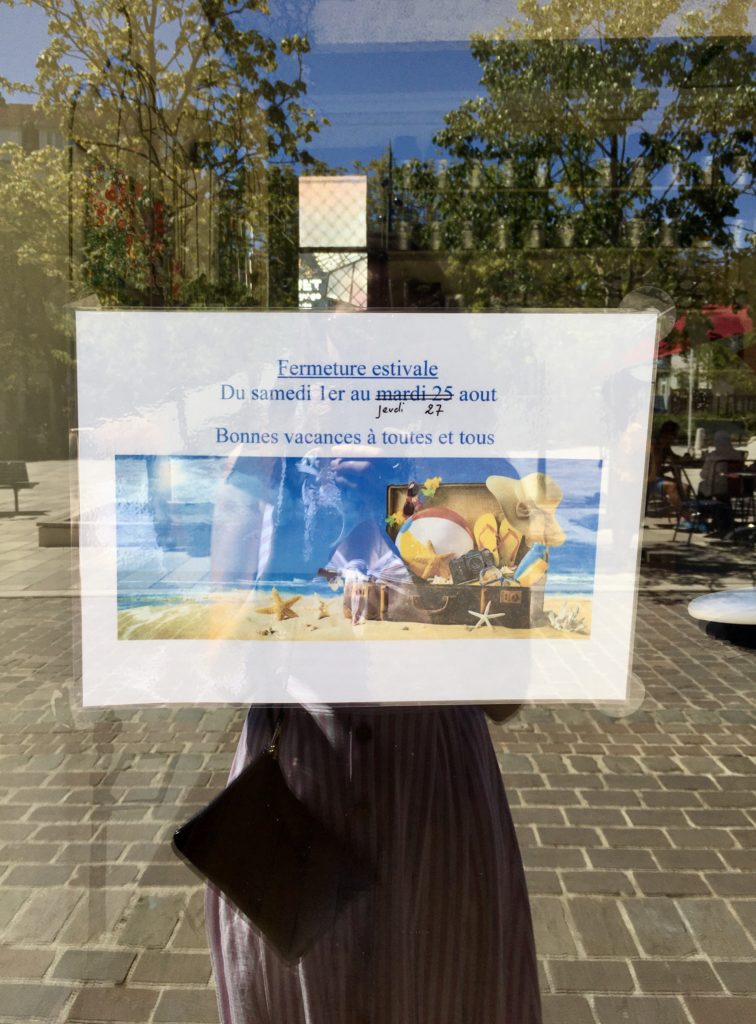 I also wouldn't recommend a stay in August if you love the AC. August is the hottest month in France and we experience what is called

les canicules

, or heat waves. Many establishments now have modernized to offer AC, but there are still others that haven't. Just keep in mind that AC is not a universal feature in France, don't expect it everywhere.
Nevertheless, if you like the idea of visiting an empty Paris it could be your ideal time to visit. So do it! It's the time to enjoy just the right amount of Parisian inspiration without dealing with the moody Parisians themselves. The locals that do stay are laid back and without a care in the world – this is summer after all!
☆
Click here to get your FREE PDF
Bucket List 2021
☆
It could be a wonderful time for you to come as many museums stay open, Paris Plages welcomes you along the Seine and Canal St. Martin and cinemas are in full swing to help you escape the hot weather. Not to mention that in mid-July to early August,

les Soldes

, or summer sales, are in full swing and

les grands magasins

, or department stores, are also a great way to entertain and evade the heat outdoors.
As you can see, Paris in August is a particular time of year. It can either be a blessing or a curse. There are positives – less crowds, less cars, and some negatives – shops closed for weeks at a time and the intense heat waves. But with the rhythm of life running at a slower pace, Paris can be a fun place to enjoy the vacation, the warmer weather, friends at a bar terrace and quieter streets.
If you're planning a trip to Paris (when travel opens up again, that is), check out my free travel resources:
1) A

Travel Budget & Tracking Tool

to work out, line by line, the travel costs you should consider in your budget. This also can help you figure out an estimated travel savings plan up to your trip start date.
2) A Step-By-Step Travel Planning Timeline PDF here. This great tool helps you have a big picture idea of the steps to focus on in ever stage of your planning.
Cover Photo  Credit: Kris Atomic
☆
Other posts you might enjoy:
To find out more about me, your Paris concierge, you can read my blog post Why I moved to Paris
☆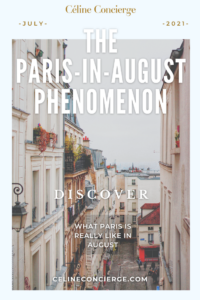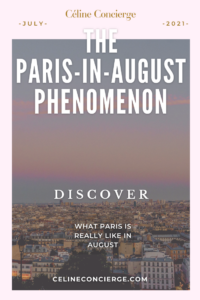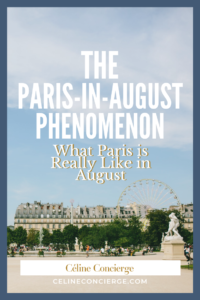 ☆