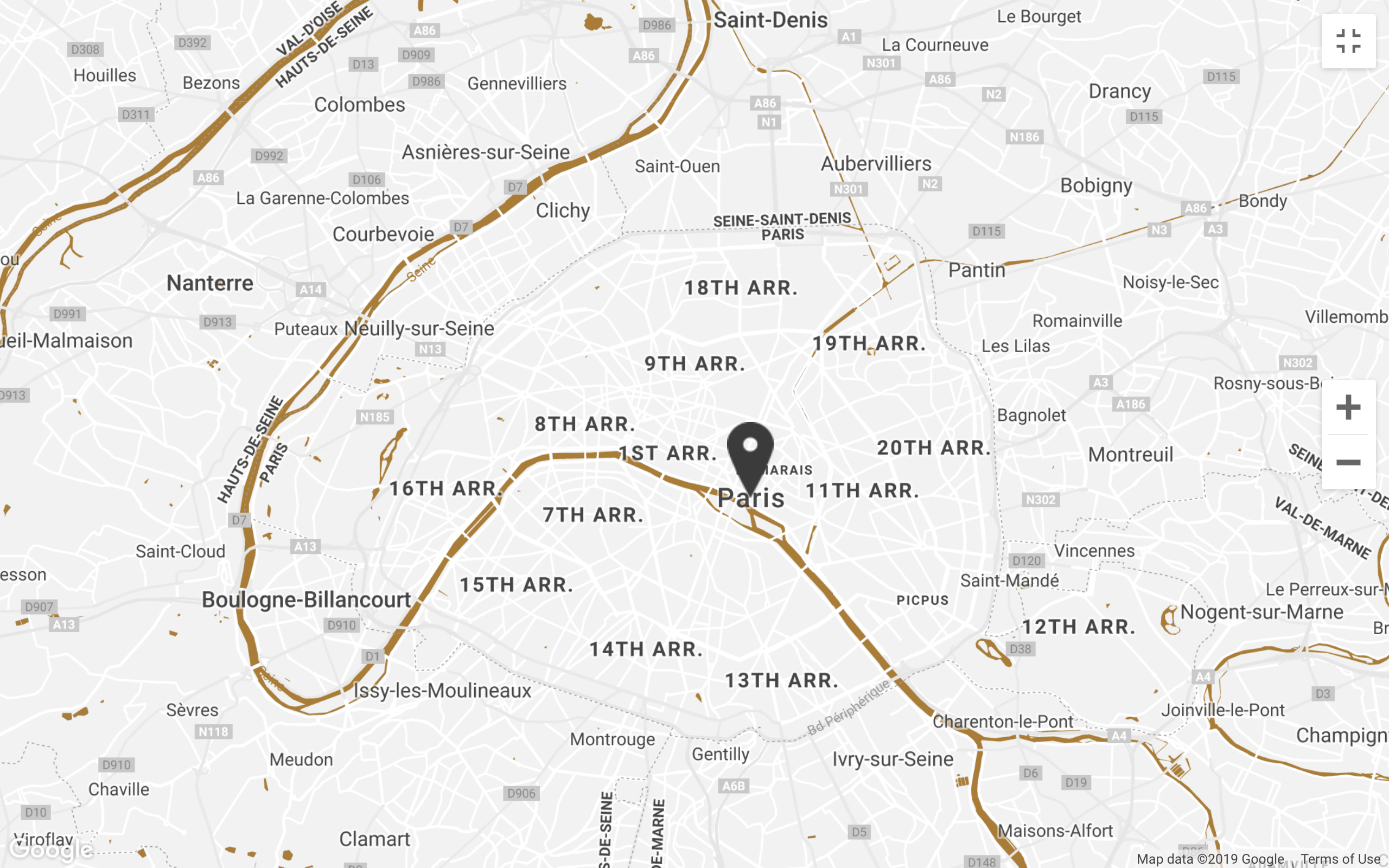 Where to Stay in Paris: A Brief Breakdown of all 20 arrondissements
Reading Time:
8
minutes
DISCLAIMER:
This post may contain affiliate links which will reward me monetarily or otherwise when you use them to make qualifying purchases. For more information, please read my
privacy policy
and
disclaimer
.
Last Updated on April 28, 2021
The 20 arrondissements of Paris in a nutshell
Here are the 20 arrondissements in a quick digest of Paris. Consider it your digital wine tasting of each area of the city to whet your pallet for your next trip. Every Parisian neighborhood is one of a kind. Each embodies its own clichés and emanates a personality of its own. Visiting the city of light is a subjective and very personal experience that can only be experienced with an actual visit. From the Latin Quarter to Montmartre, you will have different experiences when walking, visiting, and booking accommodation. There is no perfect area of Paris, yet they each have something to attract and surprise you with. It's not surprising that the locals have their lists of secret spots and favorite hangouts. 
Paris is made up of 20 districts called arrondissements (arr.) that spread outward from the center in a clockwise motion and spiral out like the shell of an escargot, or snail. Another note about the geography of Paris is that the Seine river splits it into halves– the right bank (Rive Droite), which is north Paris, and the left bank (Rive Gauche), which is south Paris. 

Courtesy of: ParisMap360
Paris, j'adore !
1st arr. – Iconic for the Louvre Museum, Jardin des Tuileries and being in the smack center of Paris. It's also one of the most bustling (and by consequence noisy and crowded) districts with the biggest underground commercial center

Forum Des Halles

.
2nd arr. –

It's like a discreet little brother north of the 1st arr. You will find the famous Parisian passages tucked away here and the well-known streets Rue Montmartre and Rue Montergueil. If I was to choose a perfect location to stay in Paris, I would choose the 2nd! I would say it's in the heart of the city and a great balance between locals and non-locals. The area surrounding Sentier has proven a modern and hip place to hang out, shop, and eat.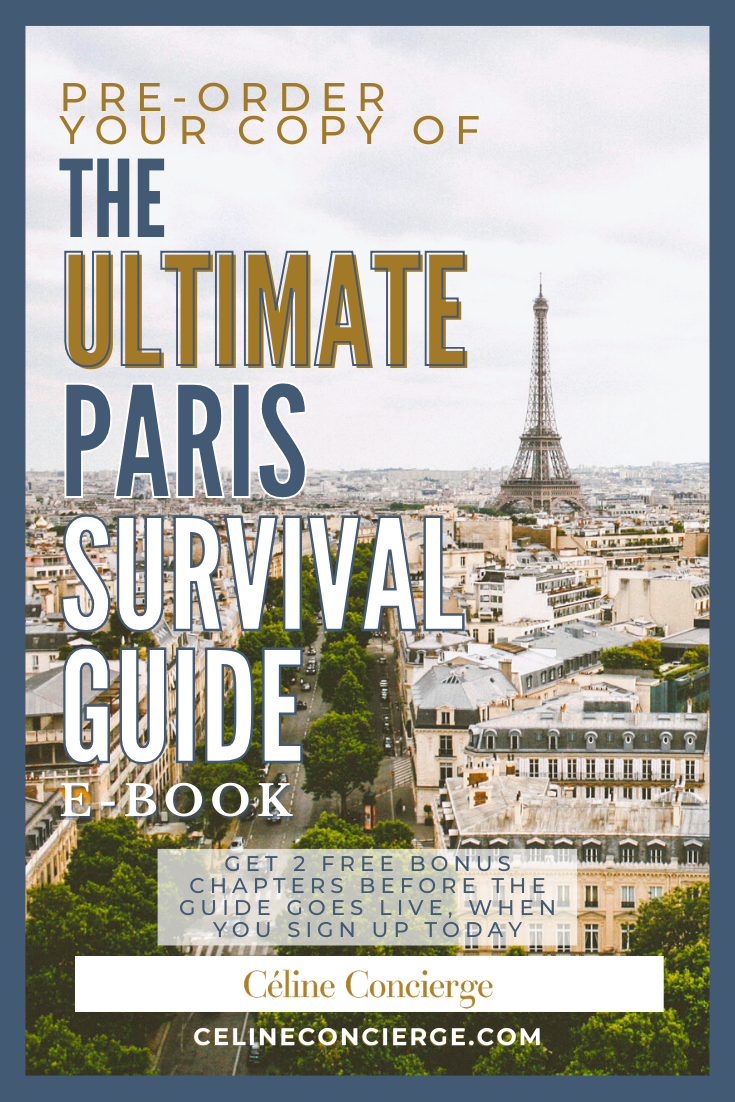 E-BOOK PRE-ORDER
Get your copy of THE ULTIMATE PARIS SURVIVAL GUIDE and become an expert in All Things Parisian!
Get first dibs plus 2 FREE chapters by leaving your email here and I'll contact you when the guide goes live.
I WANT IT!
3rd arr. – Recognized as part of the

Marais

(as well as much of the 4th), this stellar neighborhood is brimming with shops, bars, cafes, and restaurants. It is known as the

gay district with many of the local businesses supporting and flying rainbow flags at the store's entrance. This neighborhood will leave a special place in your heart once you walk the charming rustic streets that are full of energy.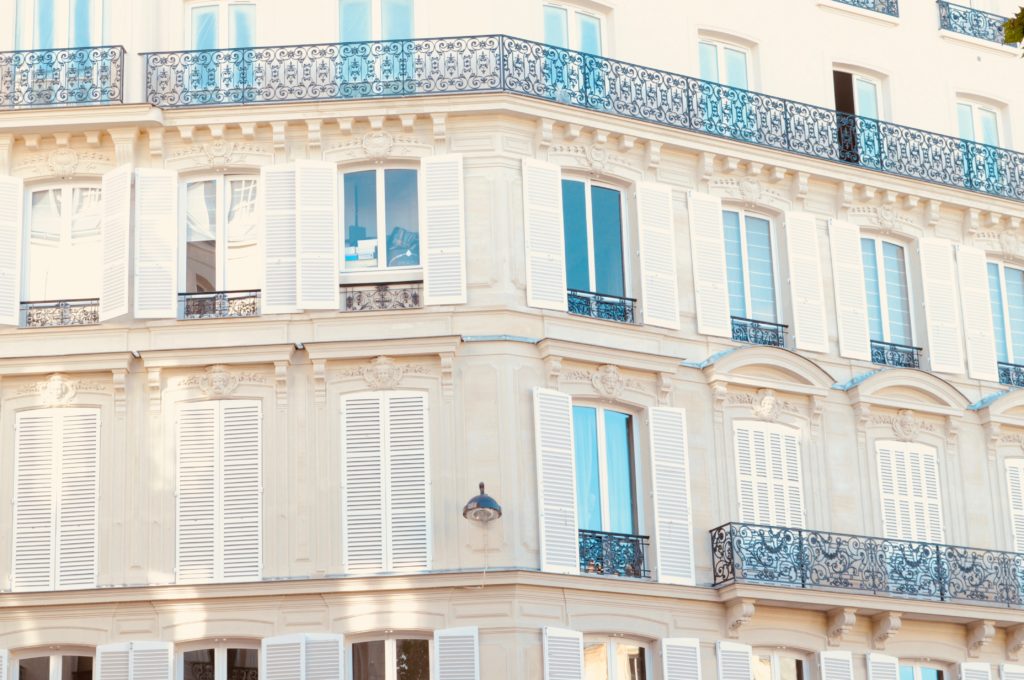 4th arr. – Encompasses a part of the Marais, Ile de la Cité where Notre Dame sits, and Ile Saint Louis. This charming and picturesque area is prime real estate and a favored choice for a

séjour

in Paris. The 4th is just fun and active, a winner if you are in Paris to experience the local mood. 
5th arr. – You can find many locals here in this secluded district. It consists of the Latin Quarter and is most famous for the Panthéon and the lively Jardin des Plantes, not to mention the unforgettable cobblestone Rue Moufftard. This neighborhood is one of the hidden gems of Paris. You will find tranquil streets leading off from the bustle as well as quaint cafes and bars.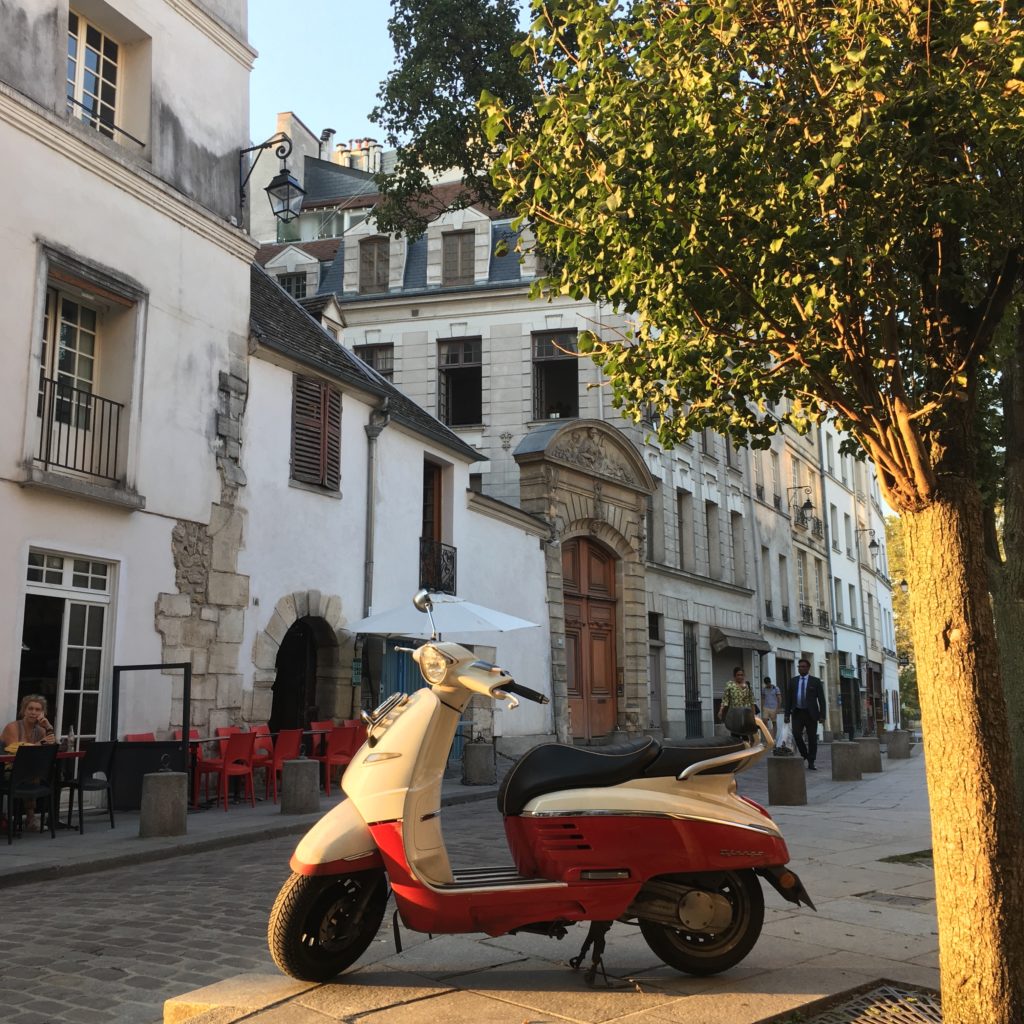 6th arr. – Reputed for the Jardin du Luxembourg and the alluring Boulevard Saint-Germain-des-Prés, this district is one of the most coveted in Paris for tourists. It blends luxury, charm, and aesthetics perfectly. With its streets lined with designer shops, and grand cafés and brasseries, travelers flock to sit on the terrace of Café de Flore and Les Deux Magots.

Expect robust streets like the delightful Rue du Bac and stunning architecture to ogle at. If I was to buy property in Paris this is the place I would explore. 
7th arr. – The Eiffel Tower makes this district the most famous of them all. Visitors picnic on the lawn of the Champs de Mars to get a view of the tower. Other famous landmarks like Invalides, the Musée Rodin and Musée d'Orsay are crowd pleasers, too. Yet, you will likewise find quite streets making this arrondissement an ideal oasis for travelers to stay whether in a hotel or homestay. 
8th arr. – This district is the emblem of sophistication, business, and government. It is very business-oriented with banks, creative agencies , national embassies and of course the Champs Élysée running through the  arrondissement. The President's home can even be found in this corner of Paris. There are stunning hotels and 5-star restaurants that exist in the 8th, but I don't recommend staying in this neighborhood as it can become quiet and impersonal, especially after dark.
☆
Click here to get your FREE PDF
Bucket List 2021
☆

9th  arr. – Famous for the Opéra Palais Garnier and the distinguished Rue des Martyrs leading up to Montmartre. I would argue that the 9th is Paris' best kept secret for travelers; it's like a hip and quiet

Marais

. This lovely district is full of locals and strategically placed as a buffer between the chaos of the city center and the vibrant 18th. If you can, stay somewhere near Saint George– this area is a dream. 
10th arr. – One of my absolute favorites areas of Paris, especially if you are under 40. This area tends to attract young adults and hip and trendy folks looking for authenticity in Paris. People tend to be slightly more open to and a bit friendly in this corner of Paris. Expect more of an urban vibe along the colorful Canal Saint Martin. 
11th arr. – Equally trendy is the 11th. You can find a myriad of culinary options, and if you are looking for an off-beat side of Paris, this is your neighborhood. Plus for if you ware looking for the night scene.  Fun streets like Rue de Lappe and Rue Oberkampf are Paris' version of Austin's 6th street. 
12th arr. – An understated neighborhood, the 12th offers great green spaces like La Coulée Verte and Parc de Bercy. The Cinémateque Français is found here for all the enthusiastic cinephiles out there. This cool and calm area is mostly residential with fun and unique places to hang out like Bercy village. It offers an open air commercial center, cinema, and plenty of cute cafes and restaurants. 
☆
For more insider secrets check out:
☆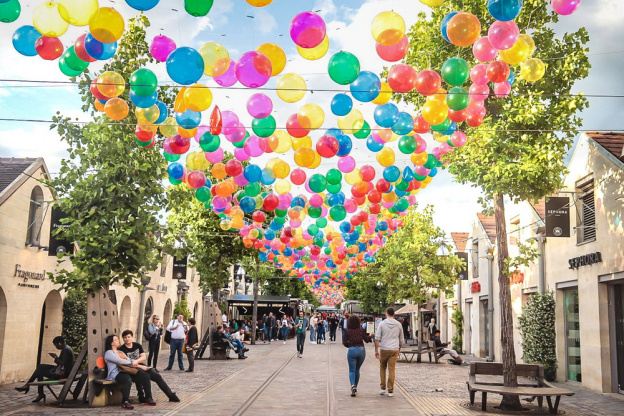 Courtesy of : Sortiraparis
13th arr. – This is an unconventional neighborhood that looks unique to the rest of Paris. You have tiny maisons in the charming Butte-aux-Cailles neighborhood. Expect residential– this is one of the few areas of Paris where you will see the building limit higher than 8 floors. 
14th arr. – The 14th is like the inconspicuous little sister of all the arrondissements, not much happens here, but it Paris still would be the same without her.  It's a residential area with many real Parisians living here. The infamous Catacombs are within its borders as well as the large Parc Montsouris. 
15th arr. – A very residential area like the 14th, offers wider streets than you would find on the Rive Droite (Right Bank). Gare Montparnasse sits in this district as well as shopping areas like Beaugrenelle and green spaces like Parc André-Citroën. There is where you will find the undiscovered party scene. Along the barges of the Seine River near Javel you can find yourself eating street food and drinking beers. 
16th arr. – A very posh and rich area of Paris. It's residential and well-known for Trocadero that faces the Eiffel Tower across the Seine. It is still one of the bourgeoisie areas of Paris with world renowned sporting stadiums like Roland-Garros and Parc des Princes.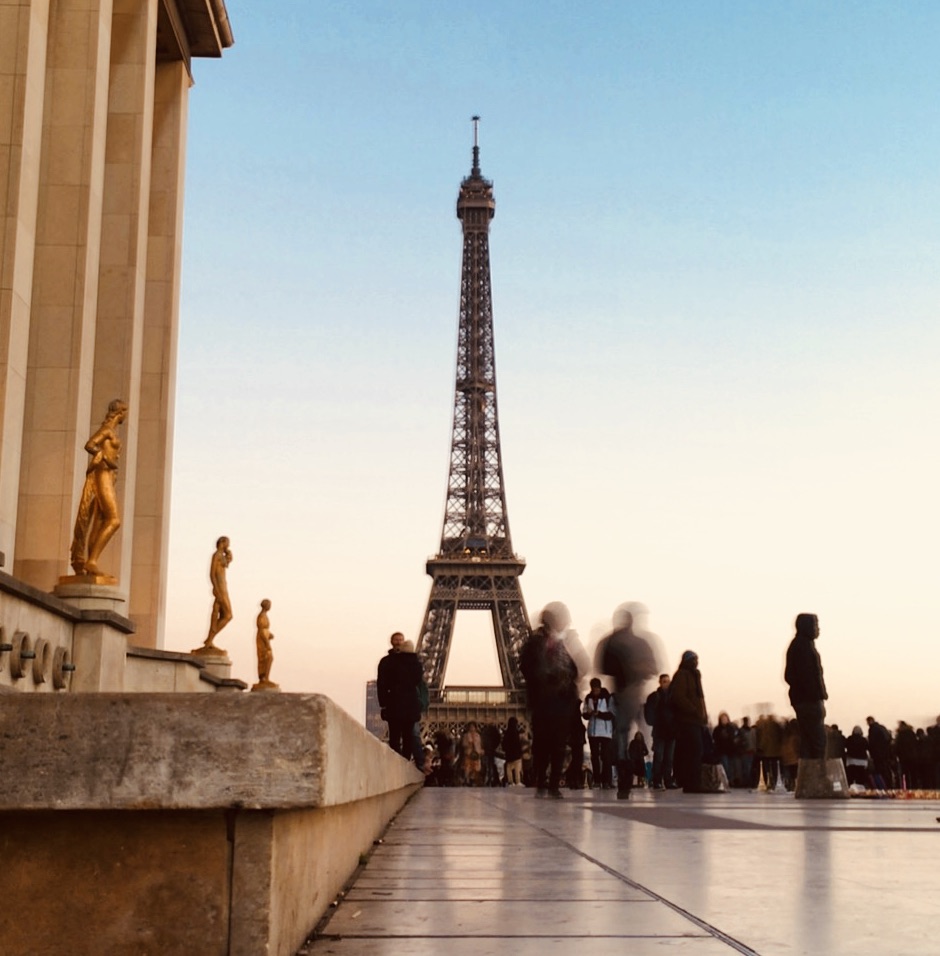 17th arr. – Off the beaten path and hip side of town where you will find lots of young restaurant owners and cool cafes in the 17th. This area is undiscovered by tourists and even many locals. 
18th arr. – This district is notorious for the Moulin Rouge– and what once was and still kinda is Paris'  red light district (Blanch, Pigalle areas). It's also known for Montmartre where the beautiful Basilica of Sacré Coeur lies. A favorite among tourists, the 18th district is also a

mélange

of cultures, cuisines, and nationalities.  But don't let it fool you with its beauty, there are some questionable areas in the patchwork of the 18th. 
19th arr. – Parc de la Villette sits nestled north of this arrondissement, it's a hub to celebrate culture, cinema, theatre, live music and science. Sitting on a hill, the Parc Des Buttes-Chaumont is widely known as a great spot to get a rooftop view of Paris. Escape from the tourist crowds to the 19th to discover secret alleyways and street art in this metropolitan neighborhood. 
20th arr. –  Its most known for the Père Lachaise Cemetery where many renowned people are now buried. The 20th is definitely off beat, but if you happen to be in the area, you will get a sense of a quiet and peaceful Paris.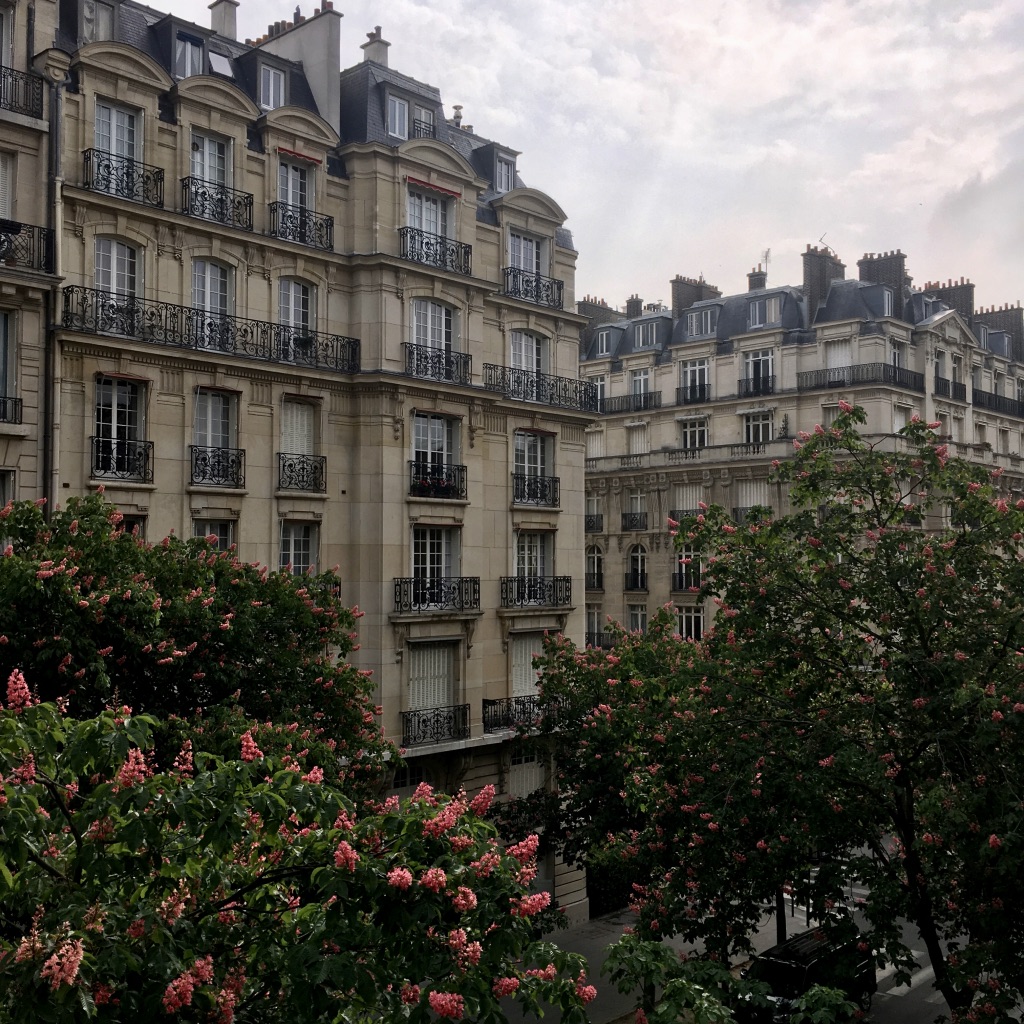 Conclusion: 
Voilà, each of the 20 arrondissements of Paris in a nutshell. Don't let the options overwhelmed you, though. If you don't know what the next step is or where to start, get in touch with me today. Don't wait! We can work out your plans together, so you know where to stay in Paris and how to book the next time you visit.
I offer

FREE consultations

for all my clients. I'm here to assist you from

dreaming

about your ideal Paris trip to helping make that a

reality

. I'm your local and personal concierge to offer insight into your travel plans. I'm here to guide you to having the most successful, most enjoyable time in Paris.  
☆
Make your dream Paris holiday
a reality today! 
Contact Céline Concierge for a FREE consultation to have the best Paris trip yet!
☆
Other posts you might enjoy:
To find out more about your concierge in Paris, you can read my blog post Why I moved to Paris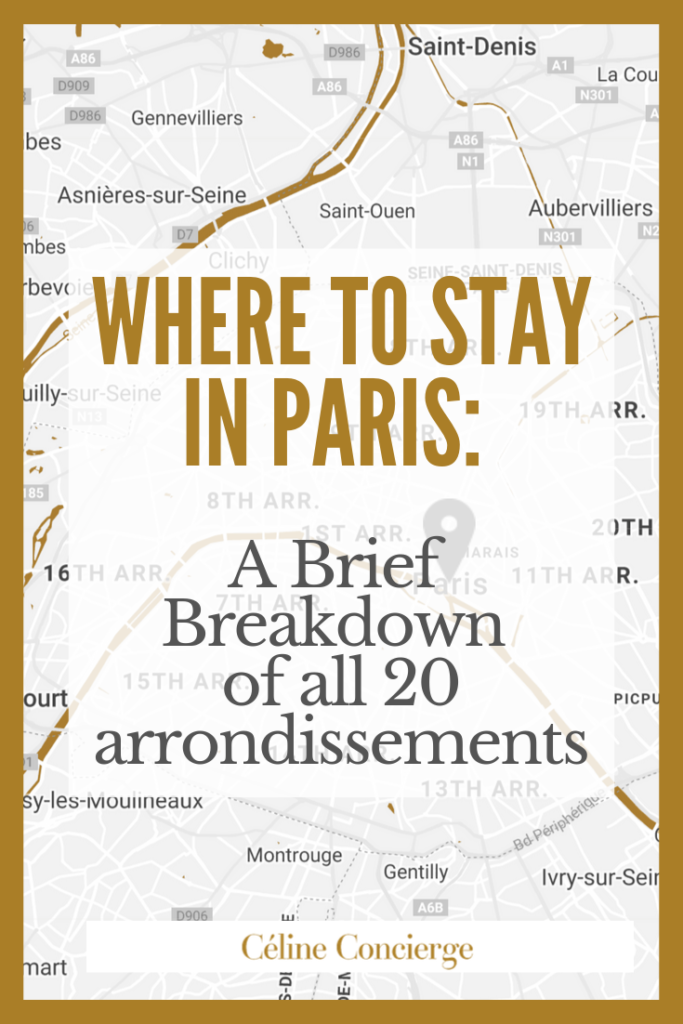 ☆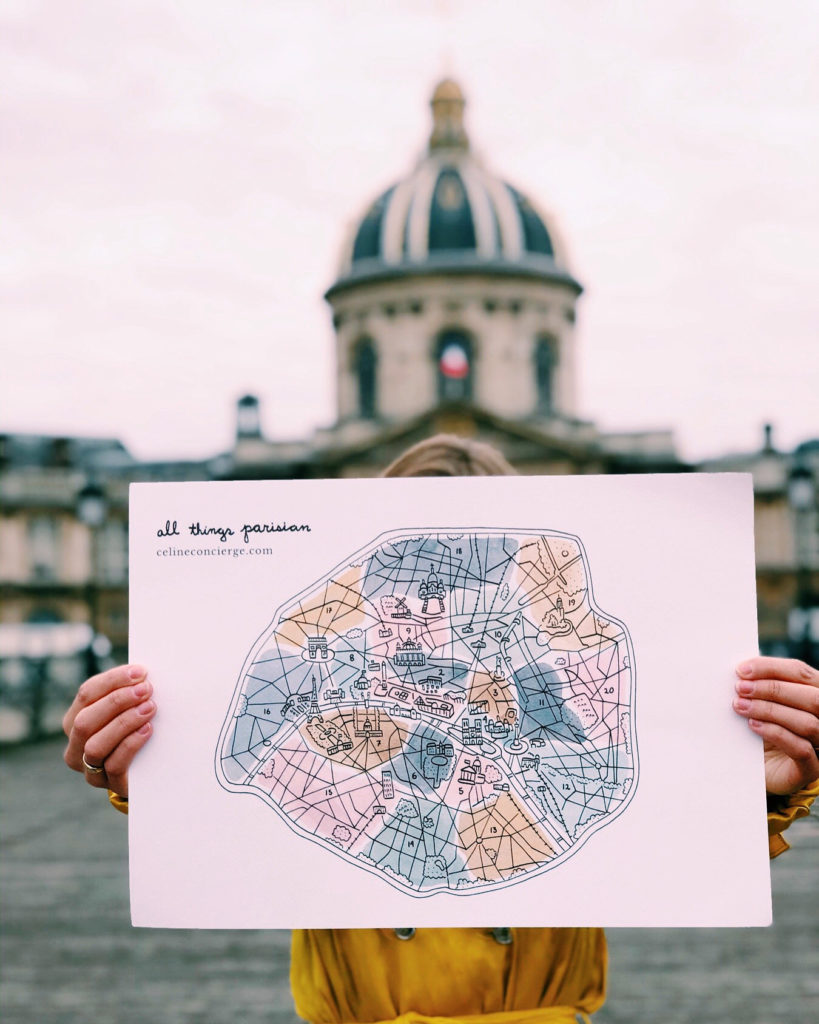 ☆