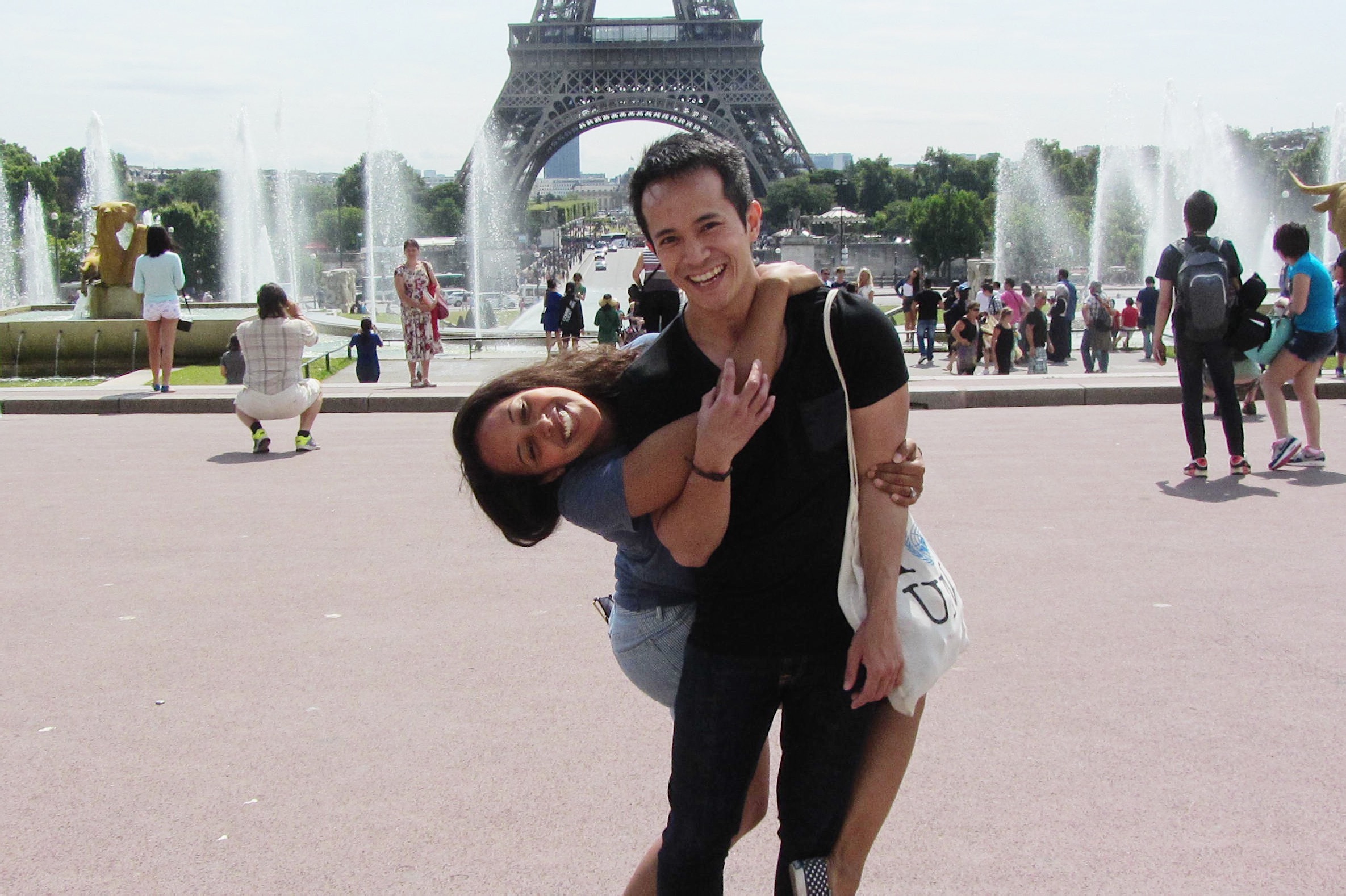 Jim Le's Full Interview
Reading Time:
9
minutes
DISCLAIMER:
This post may contain affiliate links which will reward me monetarily or otherwise when you use them to make qualifying purchases. For more information, please read my
privacy policy
and
disclaimer
.
Last Updated on April 28, 2021
Part 2
Paris Expats: Why Move to Paris?
Jim Le's Full Interview
Jim is a production & event manager, originally from Phoenix, Arizona.
He first visited Paris in 2004 on a summer trip before subsequently returning to France as a study abroad student in Aix-en-Provence, an English teacher in Normandy, and a working freelancer in Paris. Living in France since 2010, Jim has found love, gotten married and acquired French nationality.
---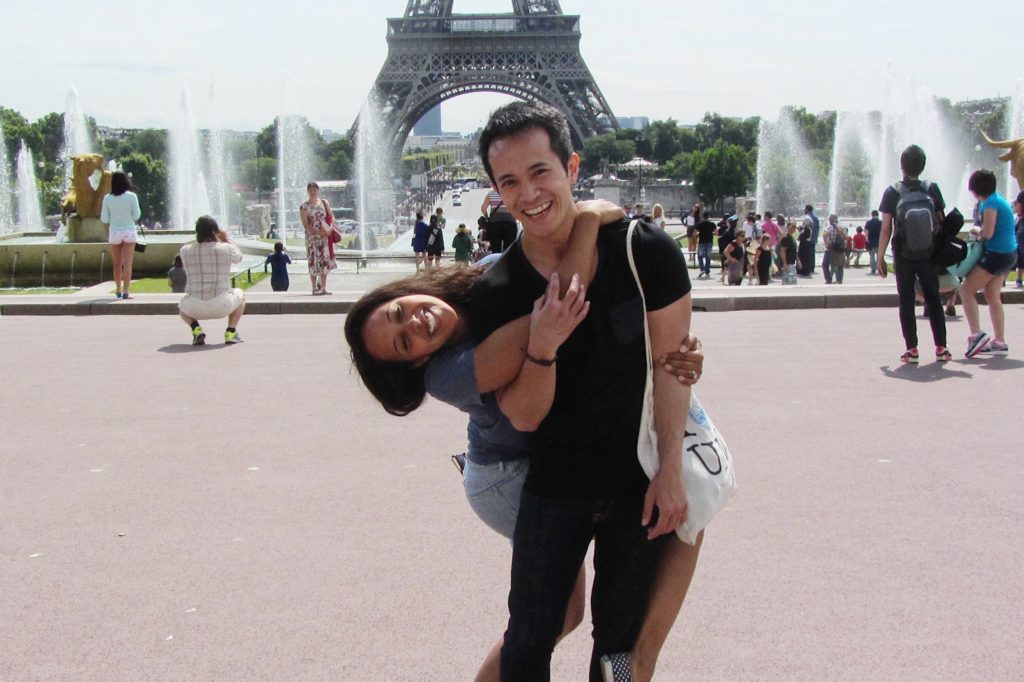 Photo Credit: Jim Le
Why did you move to Paris?
I studied Media Arts (aka Film Production) and French, so having degrees in both, I figured Paris was the perfect fit for someone like me!
I also always wanted to shoot a film in Paris, and I did so with the 2012 short film "L'Americain" about a young, reserved Parisian who takes in a mysterious American backpacker for a few days. It was to illustrate the inadvertent effects we have on the people we come across with and the lasting impressions they can leave on us. I'm also a fan of French New Wave, so I wanted to do an homage to that.
What was your first impression of Paris?
Eye-opening!
Did you know French? If yes, where did you learn the language? If not, how did you learn?
I spoke ZERO French and knew nothing about France or French culture until I met my friend Galaxie who moved to Arizona after growing up in Normandy, FR. As I became more and more curious about her and her culture over the years, I decided to take French 101 just for fun. But I ended up loving it so much that I continued to take French classes throughout college, and Galaxie and I eventually took a summer trip to France together a few years later.
During my undergrad, I did a semester abroad at IAU (Institute for American Universities) in Aix-en-Provence where I did an intensive French curriculum. So I would say I got the basics and phonetics down at that time. But I didn't really become fluent until I did TAPIF (Teaching Assistant Program in France) because I spent an entire year in a small village in Normandy where nobody spoke English. So I was pretty much forced to learn and speak French every day.
Fun fact: I ended up teaching in the same village where Galaxie grew up, and I even taught at her former primary school – if that's not destiny, I don't know what is!
What do you love about Paris?
The food! Bread, cheese, charcuterie, pastries, wine… Also love the Haussmannian architecture – that never gets old.
What challenges did you face with moving to Paris?
Finding an apartment! I spent my entire first year in Paris subletting short-term rentals, crashing at friends' places and even spending four months in a hotel (don't worry, I got a sweet deal)! As a freelancer, it's really difficult to lease an apartment because they always turn you down unless you have a full-time work contract. I found better luck through Le BonCoin and going directly through the landlords themselves rather than apartment agencies.
What is a lesson you have learned from living in Paris?
I learned that moving to a different city like Paris doesn't automatically change your life for the better.
You can't just pack up your bags, move to a new city and think that your life is going to be better for it. If you're looking for a positive change in life, YOU need to change as well. 
In my case, I had to let go of my bad habits, grow up, learn to take risks, and be fearless if I wanted my life in Paris to be any different than what it was back home. By doing so, my life here vastly improved both professionally and romantically. The year I decided to make drastic changes was the year I actually met my French husband!
Biggest lesson– get out of your comfort zone.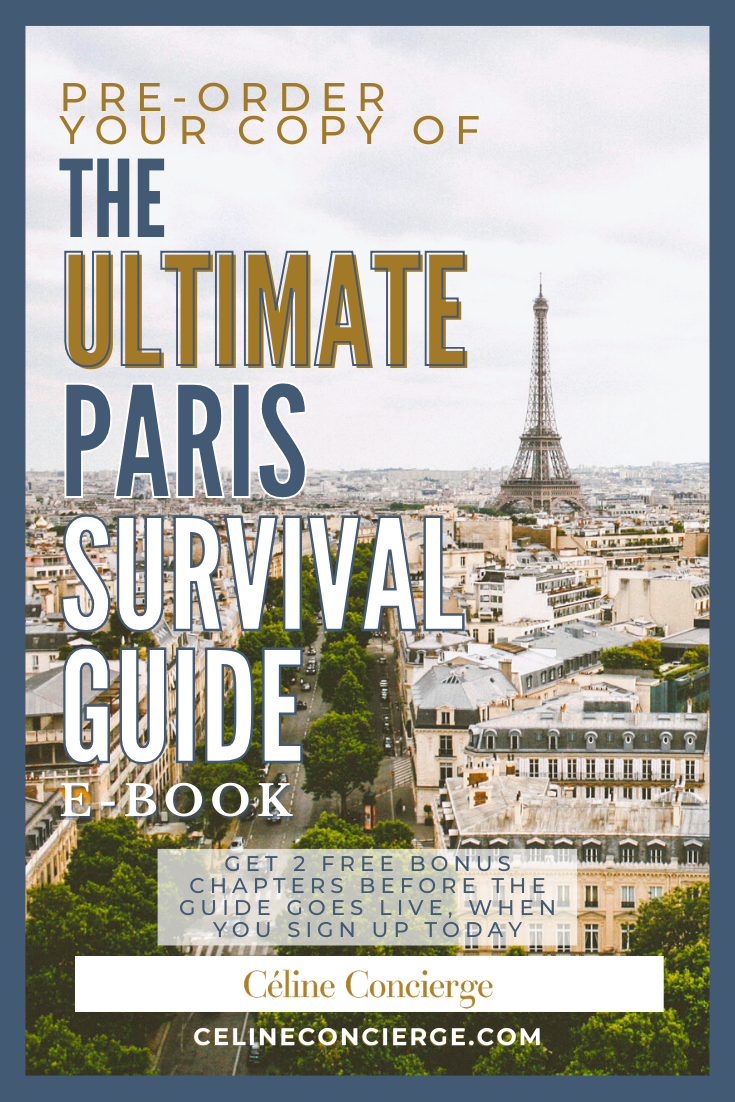 E-BOOK PRE-ORDER
Get your copy of THE ULTIMATE PARIS SURVIVAL GUIDE and become an expert in All Things Parisian!
Get first dibs plus 2 FREE chapters by leaving your email here and I'll contact you when the guide goes live.
I WANT IT!
☆
Click here to get your FREE PDF
Bucket List 2021
☆
What kind of visas/resident permits did you have to be able to stay in France?
The first visa I got was for the Teaching Assistantship Program in France (TAPIF). It's a program run by the French Ministry of Education and the Cultural Services of The French Embassy that places Americans as assistant English teachers in schools throughout France. That visa lasted an entire school year.

When I returned to the States after that program, I did some research to see how I could come back to France. At the time, the French Consulate in the U.S. offered an "artist" visa called the "Skills & Talent Card," which allowed artistic professionals to come live/work in France and pursue their own personal projects. I sent in my application and got approved to move to France at the beginning of 2010 – and I've been living here ever since!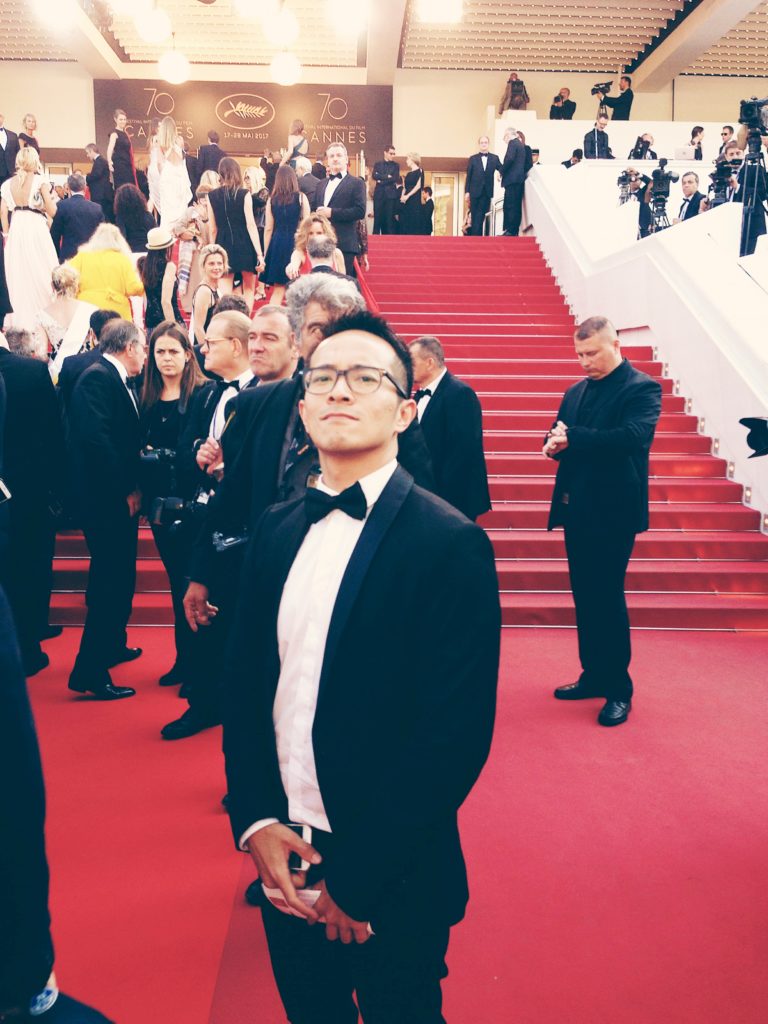 Photo Credit: Jim Le
What's one major difference between the U.S. and France that not many people know about?
By working in the film industry in France and accumulating a certain number of declared hours each year in your specific line of work, you can obtain this status – like I did – called "intermittent du spectacle", which allows people working in the theatre/cinema/television industry to strictly do what they do for a living as their primary income.
Since some of these jobs usually aren't the normal "Monday through Friday, 9-to-5" type of job, people with this status receive financial aid from the government during periods of unemployment, since they're always working on a project-by-project basis.
For example, if you're an actor in the States, you're maybe working at a restaurant or depending on two jobs just to get by. But in France, if you're an actor, you're strictly an actor. That's the only thing people expect you to be doing.
And that's one of the best things about France – they are very supportive of the arts and respectful of the people who do the work.
I've been "intermittent" since 2011.
So you're a dual
French and American
citizen. Tell me how you eventually got your French nationality?
I arrived in Paris with the "Skills & Talent" Card in 2010. It was a three-year visa, and I was able to renew it for another three years after that. So after five consecutive years of living in Paris, I was finally eligible to apply for French citizenship.
However, I didn't realize that the entire process would take so long (between 12-18 months)! With my "artist" visa about to expire and no word yet about citizenship, I was left with no choice but to apply for the new "Passeport Talent" (which had replaced the previous "Skills & Talent Card"). But
my dossier kept getting bounced back and forth between the different offices
because no one knew who was actually approving this new visa!
So
the lady at the
Préfecture
candidly
asked me about my love life
(awkwaaarrd!)
and suggested I just get married
because even she thought it was the simplest solution!
Shockingly, I took her advice! My French boyfriend and I
got hitched 3 months later
while I waited for word about my nationality. It wasn't until a year later that
I
finally
got
approved
, so I'm now
officially
French
AND, yes, still happily married!
♥
☆
For more insider secrets check out:
Enjoy

10 Remarkable Ways to Experience Paris Like a Local 
☆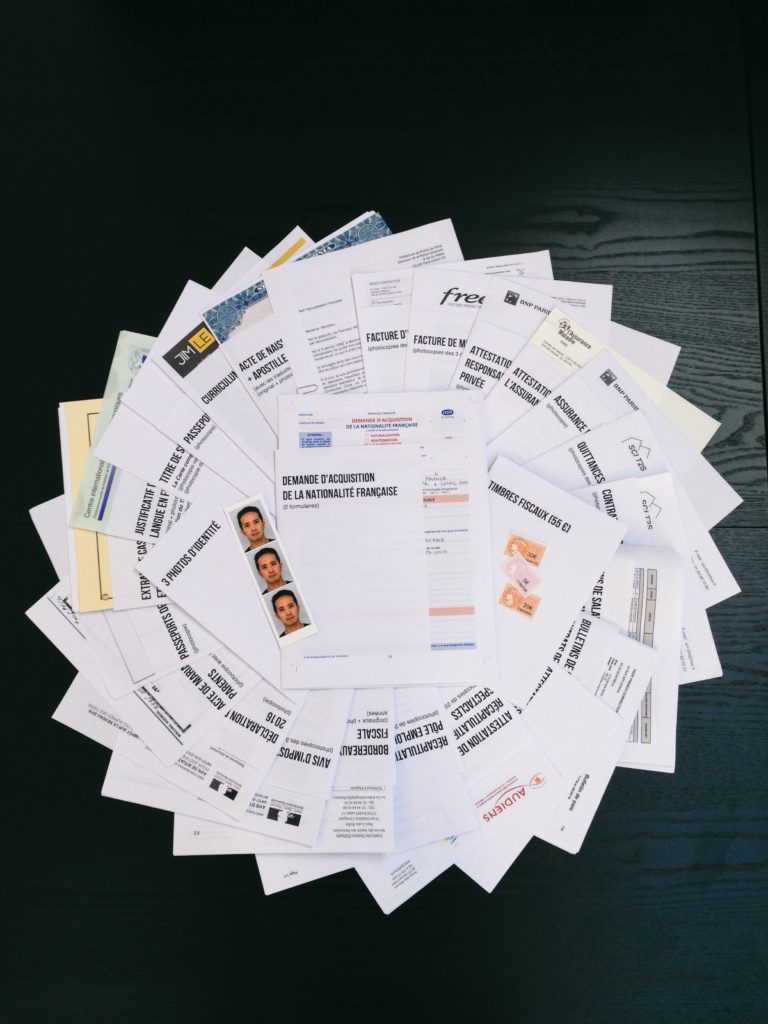 Photo Credit: Jim Le
What is your biggest frustration with Paris?
French bureaucracy… It's astonishing how long and complicated it is to do paperwork or get anything official done here. It's almost like they're trying to discourage you from living here.
It's never easy… You need to have a lot of resilience and patience.
What would you tell someone who is like you and wants to move to Paris?
Keep track of everything that you do while you're in France because the French government will probably want proof of it years later!
If I was to do anything differently, I would have studied abroad longer. Or taken French classes earlier, probably in high school so that by the time I moved to France, I would have spoken better French by the time I moved to France.
If you had known about a lifestyle service like Céline Concierge, would you consider using our services, why or why not?
I would have needed help finding an apartment as a freelancer. I had a lot of trouble finding a place.
Back then there weren't a lot of concierge services like that. I didn't even know that those kinds of services existed. So if I had known that there was a service like that, I would have taken upon myself to find a place to live because I was struggling. I think I was looking everywhere.
Even French people, they have a hard time finding a place to live. It's not just expats. It's a universal problem for everyone. It's a competition, it's a war.
Do you have a favorite book, film, or song about Paris?
"Les 12 travaux d'Astérix" (aka "The Twelve Tasks of Asterix") is a great epitome of French bureaucracy and summarizes well the frustration I endured while trying to remain in Paris, albeit in a very humorous way! 
---
Check out the other parts of the series: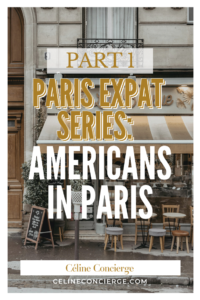 We explore the idea of an expat and what motivates people to move to Paris.
There's an introduction to the 6 friends I interview throughout this series.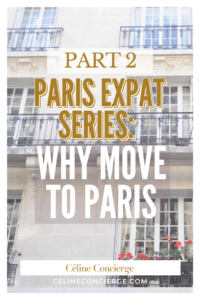 We'll dive into first impressions and why they moved to Paris along with what they love about the place. 
Full interviews with Jim  Le, a seasoned expat turned French national & John Arndt, a musician and France newcomer.

We'll cover how people move to Paris and what lessons they learn from living here. We examine learning the French language and what their biggest frustrations are. 
Full interviews with Claire A*., an entrepreneurial drama therapist & Eric Davis, a design professional in the construction industry

We'll continue to explore the challenges and struggles of living in France. I also ask what they would tell their younger selves if they had the chance.
Full interviews with Hannah Smith, a seasonal visitor, and digital nomad & Hope Curran, an art student attaining her master's degree.

Finally, you won't want to miss this detailed interview with my friend and immigration attorney

Daniel Tostado

.
He gives us an insider's scoop on the different Visas to be able to move to France and ways to apply. 
Full Interview with Daniel Tostado, an immigration attorney in Paris.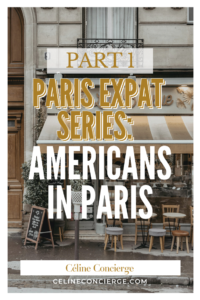 ---

☆
Other posts you might enjoy:
To find out more about me, your Paris concierge, you can read my blog post Why I moved to Paris
☆